Bei Dao: Today's Chinese literature is uninspired
Updated: 2011-08-13 21:44
(Xinhua)
| | | | | | | | | | | |
| --- | --- | --- | --- | --- | --- | --- | --- | --- | --- | --- |
|   | | Comments() | | Print | | Mail | | Large Medium  Small | 分享按钮 | 0 |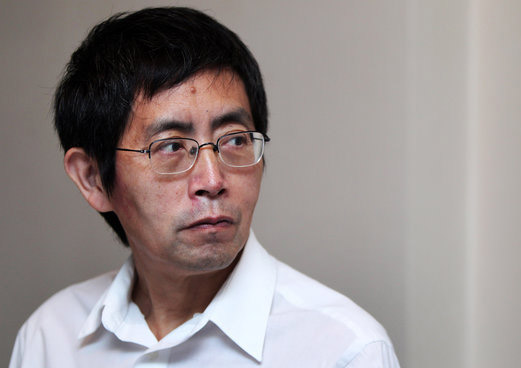 File photo of Bei Dao [Photo/CFP]
XINING - The 62-year-old poet Bei Dao surprised nearly everyone when he appeared at the Qinghai Lake Poetry Festival that opened on Aug 9, as he has been absent from the Chinese mainland for more than 20 years, except for a brief stay for his father's funeral in Beijing in 2001.
Bei Dao, whose real name is Zhao Zhenkai, covered his thin body with a a brick-red jacket and grey pants as he made a short speech at the opening ceremony of the festival in Xining, capital of northwest Qinghai province, before being surrounded by fans clamoring for his autograph and hoping to be photographed with him.
The pioneer of a new genre of Chinese poetry in the early 1980s frequently found himself crowded by fans during this visit, but if it bothered him he never showed it, as he was always polite and never refused autograph or photo requests.
Away from admirers, he looked introspective, as he gazed into the distance or wandered alone, sometimes snapping photos. "I wish to convey my meditation on the world after years of travelling through poetry," he said in his baritone voice.
"My wandering life of 20 years is precious to me, and my life and poems run in parallel lines -- sometimes crossing," Bei Dao told Xinhua in an exclusive interview in the National Geological Park in Guide County in Qinghai during the festival.
One of his best known poems is "The Answer," which was written in the 1970s, and in it he says "Debasement is the password of the base, Nobility the epitaph of the noble."
He said he seldom recites it these days, unless a friend requests it.
"For a poet, it's hard to pick a favorite among all your works, but I've always believed my best poem should be the next one," he said. "Poets should always challenge themselves."
Poetry devolution
In his eyes, compared to the prosperity in the 1970s and 1980s, today's Chinese literature is uninspired. "It's true not only in China but also across the world, and it's related to many factors, like materialism oriented by consumption, the nationwide trend of seeking entertainment, information dissemination brought by new technologies. All these things are making bubbles in language and literature," he said.
He pointed out that previously a clear-cut division existed between "vulgar" culture and "serious" culture, but today vulgar culture is swallowing serious culture like a black hole, and unfortunately, many writers are forced to lower their writing standards to cater to vulgarity in today's society.
There are other reasons for the devolution of Chinese poetry, Bei Dao said, such as the absence of a system of construction.
"Poetry needs good guides, and a good critic is a good guide who can lead or shape a group of well-educated readers through unscrambling and analyzing poets."
He said that college students and scholars who used to read poetry have lost their enthusiasm for it amid China's social transformation, and now poetry only evokes nostalgia for them.
Meanwhile, the poet noted, the young generation of readers who grew up in the era of commercialization could not escape the impact of the times on them.
"In such a populous country, it would only take a niche audience to reignite the development of poetry, so it's a pity that such reader groups have not yet formed," he said.
To utter the unutterable
Bei Dao said he's currently writing long poems and still considers poetry "the most important and challenging artistic expression" in his writing career.
But "the paradox of writing poetry is that you have to utter the unutterable, and it's the only way to the heart of all that matters," he said.
Bei Dao said he greatly enjoys his life with family in Hong Kong, and his six-year-old son has brought him "irreplaceable comfort."
"He often indulges himself in his own fantasy, loves painting and can appreciate literature," he said.
He's currently working on two international poetry projects, apart from teaching at the Chinese University of Hong Kong.
The first project, "International Poets in Hong Kong," invites two world renown poets to visit Hong Kong every year, carrying out poetry activities and publishing a bilingual poetry collection for each poet.
The other project, the annual International Poetry Nights in Hong Kong, started in 2010. It aims to make quality poetry teaching universal.
This year, from Nov 10 to 13, the second Poetry Night will invite over 10 foreign poets and 10 poets writing in Chinese and publish a multilingual collection of each poet.
"Modern education kills young people's imagination and creativity, so we need to promote poetry instruction to sharpen their awareness of literature," he said.