An eye for the storm
Updated: 2011-08-11 08:19
By Li Xinzhu (China Daily)
| | | | | | | | | | | |
| --- | --- | --- | --- | --- | --- | --- | --- | --- | --- | --- |
|   | | Comments() | | Print | | Mail | | Large Medium  Small | 分享按钮 | 0 |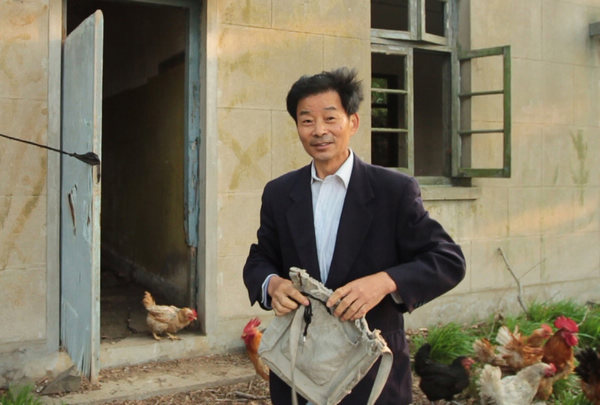 Wang Renliang, a 58-year-old sea inspector who has spent three decades on a 7-sq-km island near Shanghai keeping a close eye on typhoons and tsunamis, stands in front of his home and office on the island. [Provided to China Daily]
SHANGHAI - The first thing Wang Renliang hopes to do after his retirement in two years is to bring his wife to see Shanghai.
Though a native of the city, Wang, 58, has been unable to witness its development as he has spent most of the last 32 years on Dajishan island, about two hours away.
As a sea inspector based on the 7-sq-km island, Wang's major responsibility is to monitor and collect data of wind speed, surface temperature, barometric pressure, and so on - numbers that can be used to forecast disasters such as typhoons and tsunamis.
"Dajishan plays a significant role in protecting the residents living in the nearby coastal area from typhoons and tsunamis," Wang said. "If we find a typhoon or tsunami is approaching and issue the alert on time, they will have at least one hour to escape. In case of such an emergency, time is life."
He collects data from four observation points on the mountaintop every three hours. During typhoon season, he has to be on 24-hour standby.
The key factors of predicting the weather, such as the strength of the wind, height of sea waves and water temperature, will be recorded in 10 notepads. To ensure accuracy, he must be present at a precise time in the same place every day.
After many years of dealing with typhoons, Wang has discovered his own method to judge when one is drawing near.
"Several symptoms can be found before a typhoon approaches," he said, "such as the glittering plankton that hits the rock during the night and swell waves."
During typhoon season, sea inspectors like him cannot leave the island, so their lives can be in danger.
Wang recalled once in 2005, when Typhoon Masta approached, all windows and doors of his accommodation were destroyed by the strong wind, but luckily he stayed inside an observation point.
"The house was too old," Wang said. "We didn't have enough money in the past to repair it."
But since 2004, the station has been receiving funds from the government. "We received one million yuan last year," Wang said. "For us, it is quite a fortune that can be used to improve facilities in the island."
In the old days, Wang had 40 to 50 colleagues with him on the island, but due to the improvement of observation facilities, only two people are required to stay. Though the Internet is available on the island, it can only be used to transfer the observation data to the center.
Now Wang spends most of his spare time planting vegetables, feeding cats, dogs and poultry.
At times, he also likes to climb the mountain and sometimes watches the TV, even though there is only one channel available.
"I want to keep myself busy, otherwise I will miss my family," Wang said.
He has few chances to go back home, as transportation between the island and the city is not very convenient - Wang has to take local fishermen's boats to travel between his destinations.
"The inconvenience of transportation is one reason that I would rather stay on the island than go home on a regular basis," Wang continued. "Fortunately, my wife doesn't complain too much. Instead, she treats my parents and me very well."
Wang said his wife visited the island only once. She had thought her husband was guarding a treasure island. But after one visit she decided it was too sad to see the hardship her husband has to endure.
But in recent years, Wang usually has the company of his only son, now 28, on weekends.
"Our relationship is very close, though I didn't accompany him often in his childhood," he said. "He loves the environment on the island but complains a lot about the food."
As life on the island relies a lot on rain for fresh water, it can be a problem when there is a drought. The situation can get worse when the ship carrying supplies can't reach the island due to strong waves in the sea.
"In that case, I can only do with a barbarian's life without shower for days," Wang said, laughing. "The feeling is terrible. Just imagine that you are living close to a vast expanse of water but you can't beat your thirst."
The worst experience occurred when no ships were able to reach the island for a few days and Wang ran out of rice.
"At first, I went to find some conches on the shore. In the end, I could only turn to rats," recalled Wang.
Fresh vegetables used to be a luxury, but now with his own garden on the island, it is getting better.
The only problem Wang has is that after spending such a long time living mostly by himself, he is a bit nervous when strangers come to visit.
"I'm actually very happy to see them," Wang said. "But I really need time to think how to start a conversation."
"Whenever he comes home, he sounds like a stammerer at first," said Wang's son. "Once he gets over it, he turns into a talker."
Living in a barren house worn by decades of sea winds has also left Wang with arthritis in the legs.
But Wang doesn't complain.
"I do this job to protect my hometown," he said. "I feel very proud even if my role is insignificant in comparison with others."
Documentary Channel of Shanghai Media Group contributed to this story.