FM visits fledgling nation South Sudan
Updated: 2011-08-10 07:14
By Wu Jiao and Qin Zhongwei (China Daily)
| | | | | | | | | | | |
| --- | --- | --- | --- | --- | --- | --- | --- | --- | --- | --- |
|   | | Comments() | | Print | | Mail | | Large Medium  Small | 分享按钮 | 0 |
Analysts say move shows China's commitment to brokering peace
BEIJING - Foreign Minister Yang Jiechi arrived in the Republic of South Sudan on Tuesday to strengthen ties with the world's newest country one month after it declared independence.
In an interview with South Sudan's Al-Masier newspaper, posted on the Chinese Foreign Ministry's website on Tuesday afternoon, Yang said his visit "gives testimony to the importance China attaches to cultivating friendship and cooperation with South Sudan".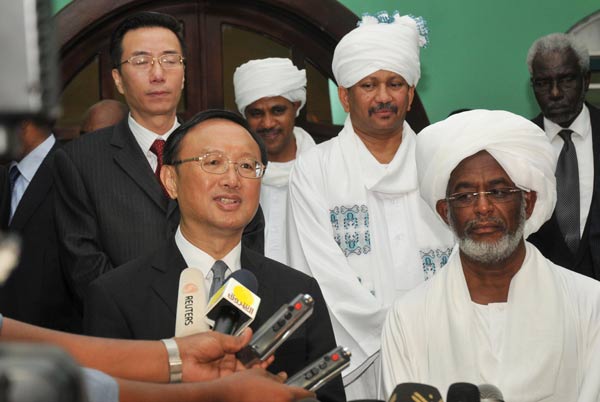 Foreign Minister Yang Jiechi speaks to the media as his Sudanese counterpart Ali Karti (right) listens in Khartoum on Monday. [Ebrahim Hamid / Agence France-Presse]
He said he has conveyed to South Sudan's President Salva Kiir an invitation from President Hu Jintao to visit China.
Yang was on the last leg of an eight-day tour of European and African nations.
During a visit to Khartoum on Sunday and Monday to meet with Sudanese President Omar al-Bashir and Foreign Minister Ali Karti, Yang said Beijing would continue its economic and political support "no matter how the regional and international situations change".
He urged both Sudan and South Sudan to resolve their differences.
Beijing has had strong links with Khartoum in recent years, but it has also made an effort to improve ties with Juba, the BBC reported.
Asked by Al-Masier how China would balance its relationship with the two, Yang said it has consistently supported and contributed to the peace process.
"We have always believed that the north and the south are interdependent, and we hope to see that - proceeding from the fundamental interests of their peoples and the stability of the region - they stick to the peace option and address the issues through dialogue," Yang said.
He said China will continue to aid South Sudan, as its ability permits, and will support and encourage Chinese enterprises to invest and start businesses in the country.
According to Yang, opportunities and challenges facing Sino-African relations are increasing.
"My government's policy toward Africa is consistent and firm. China is ready to work with African countries, South Sudan included, to move the China-Africa strategic partnership of a new type to still a higher level," Yang said.
South Sudan became independent one month ago after decades of north-south conflict.
Before it was divided, Sudan was a large oil exporter to China. Now, more than half of the oil resources belong to South Sudan.
But South Sudan must export oil via the north because it has no port or refineries. The two countries have so far failed to agree on transit fees, or how to share oil revenue.
"We hope that Sudan and South Sudan will have good neighborly relations based on the exchange of benefits," Yang said.
According to Dai Yan, former Chinese counselor to Republic of Ghana, Yang's trip shows China's intention to treat the two equally.
"China wishes to develop good relations with both countries and hopes they can have good terms with each other. After all, China has important economic interests in both," he told China Daily.
According to Mohamed Ahmed Mukhtar, deputy director of the Center for Peace & Development Studies at the University of Juba, the visit by a key figure in the Chinese government shows China's intention to help maintain peace and stability in the region.
"I am very sure that the visit will succeed to bring the two parties together to discuss timely issues," Mukhtar told China Daily.
Regional peace and stability were high on Yang's agenda.
He said earlier that China would continue its efforts with the international community to find a solution to the issue of the disputed border area of Abyei. Khartoum and Juba have yet to agree on who will control Abyei, stirring fears that the issue could sour the secession and spark a broader conflict.
Yang said the situation in Darfur, another region where rebels have fought the Khartoum government, could be resolved only by eliminating poverty and through development, which would lead to peaceful coexistence among tribes.
Reuters contributed to this story.
China Daily