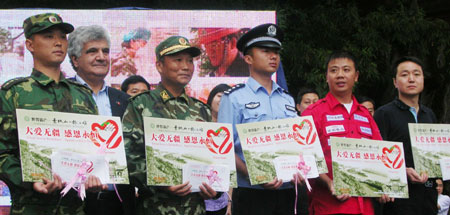 Soliders, policeman and volunteers who helped Dujiangyan's quake relief receive "gold cards" from the city's government June 15, 2008. The cardholders will be able to visit the Dujiangyan Irrigation Project and Mount Qingcheng free of charge during their lifetime. [Huang Zhiling/chinadaily.com.cn] 
CHENGDU: He Ping, a 52-year-old taxi driver in Chengdu, capital of Sichuan Province, sent a passenger to the Lidui Park in this city 48 km northwest of Chengdu early Sunday morning.
When he found the park which is home to Dujiangyan, the world's oldest irrigation project still in operation, was open to visitors free of charge, he made a quick visit to the site of the project on the World Cultural Heritage List of the United Nations Educational, Scientific and Cultural Organization.
Special coverage:
Strong Earthquake Jolts China
Related readings:


Frugal life for pandas in Chengdu


China quake death toll rises to 69,170


Panda safety main concern of rangers


54 tourists dead in China earthquake
"To my pleasant surprise, only some bricks and tiles have fallen from buildings near the project site and glass encircling a stone statue of Li Bing (builder of the project) built in the Eastern Han Dynasty (AD 25-220) has been shattered. And the dam site is intact," he said.
According to Cui Wei, an official with the Dujiangyan irrigation project administrative bureau, the park will be open free of charge for three months to promote tourism hard hit by the May 12 earthquake.
"The promotion is in response to the Sichuan Provincial Tourism Administration's decision to partially reopen the provincial tourism market on June 15," he said.
On May 12, the National Tourism Administration asked individuals and tour groups not to visit Sichuan in the wake of the earthquake.
Sichuan reopened 12 cities and one prefecture to tourists on Sunday in a move to revive its once-booming tourism industry. They include Zigong, Panzhihua, Luzhou, Suining, Neijiang, Leshan, Nanchong, Yibin, Guang'an, Dazhou, Meishan and Ziyang and the Liangshan Yi autonomous prefecture.
It partially opened Chengdu to tourists, for several major visitors' attractions were damaged in the earthquake, said Zhang Gu, chief of the Sichuan provincial tourism administration.
"Sichuan will promote visits to its attractions by locals in the province and ask provinces and cities which are helping Sichuan in its after-quake reconstruction to organize tourists to Sichuan," he told chinadaily.com.cn.
Sichuan's tourism sector has suffered a loss of more than 50 billion yuan (US$7.2 billion) because of the earthquake. But it has not caused havoc to the province's world heritage sites.
Mount Qingcheng and Dujiangyan have been just partly damaged, while the Jiuzhaigou and Huanglong scenic spots, Mount Emei and the Leshan Giant Buddha have suffered no damage in the earthquake.
Sichuan is working on the reconstruction plan of its tourism sector. According to the plan, the sector's full recovery, which is expected to take two years, will be in several steps.
First, the province will stress the promotion of the Chengdu-Mount Emei-Leshan Giant Buddha route in the second half of this year to show Sichuan is safe. Second, it will stress the promotion of the sector in an all-round way next year. The entire tourism sector including in disaster areas is expected to fully recover in about 2010.
The worst-hit places, including Beichuan county, Tangjiashan earthquake lake area, and Hanwang town, are expected to be built into earthquake museums in three years, he said.
The province will raise nearly 200 billion (nearly US$29 billion) from both the governments and investors for the reconstruction of the sector, according to the plan.
Tourism revenue in Sichuan was 121.7 billion yuan (US$18 billion) last year, accounting for 11.6 percent of the province's gross domestic product. More than 400,000 people are working in the industry.
Some visitors' attractions reopened to visitors before June 15, the timetable for their reopening set by his bureau because they were eager to restore their former prosperity, Zhang said.
The Lidui Park reopened on June 14 and was visited by some 4,000 tourists from Chengdu, Chongqing Municipality, Guizhou Province and Guangzhou.
In a ceremony marking the park's reopening, the Dujiangyan municipal government presented 100 "gold cards" to soldiers, policemen, medics, volunteers, donors, journalists and representatives from international organizations to appreciate their contribution to relief work in the city.
With the cards, holders who have contributed to relief work can visit the Dujiangyan Irrigation Project and Mount Qingcheng, which is birthplace of Taoism, the only religious indigenous to China, free of charge during their lifetime.
The issuance of the cards will not be limited. "The city will issue the cards to all those who have helped its relief work. They will post them to those who have left Dujiangyan," said Liu Junlin, party chief of Dujiangyan.
He said at least 1 million people have participated in relief work in his city.