Torrential rain and floods across southern China have claimed at least 57 lives over the past 10 days, the government said Sunday.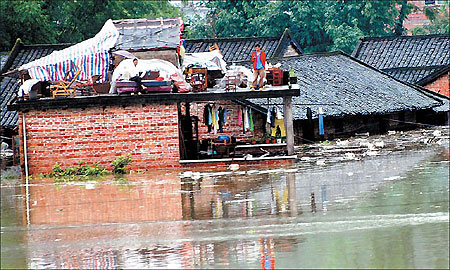 Heavy rain has caused the Guijiang River to break its banks and flood houses in Zhaoping county's villages in the Guangxi Zhuang autonomous region. Till Sunday, the water had disrupted the lives of more than 120,000 people in the county. [China Daily] 
More than 18 million people in Zhejiang, Anhui, Jiangxi, Hubei, Hunan, Guangdong Guizhou and Yunnan provinces, and the Guangxi Zhuang autonomous region have been hit by the floods.
And about 1.3 million people have been moved to safer places in those places, the Ministry of Civil Affairs said.
The economic loss because of the rain and floods has reached 10.6 billion yuan ($1.5 billion), with crops on 902,000 hectares being destroyed. More than 45,000 houses have collapsed and 140,000 houses have been damaged.
Continuous rain has wreaked havoc across the south, disrupting traffic and damaging crops, and causing power outages in a few areas.
Vegetable prices have soared amid tight supplies in some areas. In Guangdong, the worst hit province, vegetable prices jumped 70 percent in the cities of Guangzhou, Shantou, Chaozhou and Shaoguan on Saturday.
The ministry raised the national disaster emergency response system to level-III late on Saturday and dispatched teams of officials and experts to the affected areas to help with relief work.
The level-III response requires the ministry to send people to the disaster areas within 24 hours and relief fund and materials within 48 hours. Level-I is the highest natural disaster response mechanism, and level-IV the lowest.