Chinese mainland tourists will be able to visit Taiwan via chartered flights on weekends from next month, according to two landmark agreements signed on Friday.
The deals were signed by the mainland's Association for Relations Across the Taiwan Straits (ARATS) chairman Chen Yunlin and Taiwan-based Straits Exchange Foundation (SEF) chairman Chiang Pin-kun after the semi-official bodies completed their first talks in nearly a decade.
The two sides agreed to start the chartered flights from July 4.
To date, the service has been available only during major Chinese festivals.
Previous media reports suggested the flights would be restricted to mainland and Taiwan travelers. But anyone with valid travel documents will be able to take them, according to the agreement.
Although the 36 flights each weekend - from Friday to Monday - will, for the time being, still be required to fly through Hong Kong airspace, the two sides agreed to start discussing a "direct flight route as soon as possible".
They also agreed to discuss chartered cargo flights and air traffic control coordination.
"Now it is a beginning and the next step will follow," Michael Lo, former chairman of the Taipei Airlines Association, was quoted by Beijing News on Friday.
"We can't expect to reach the final target in one step.
"A good beginning is half the job done."
The other agreement is on mainland tourists' travel arrangements in Taiwan.
In the first batch, 13 mainland provinces and municipalities are included.
"A maximum of 3,000 mainland tourists can travel to Taiwan every day," the agreement states.
The first group of mainland tourists will arrive in Taiwan on July 4.
The two sides also agreed to set up representative offices to handle tourism issues, and pledged to simplify entry and exit procedures and protect mainland tourists' legal rights and safety.
Hu meets Chiang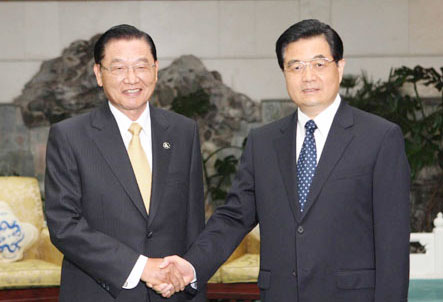 General Secretary of the Communist Party of China Central Committee Hu Jintao (R) shakes hands with Chiang Pin-kun, chairman of the Taiwan-based Straits Exchange Foundation (SEF), in Beijing June 13, 2008. [Xinhua]
In his meeting with Taiwan's chief negotiator Chiang Pin-kun on Friday afternoon, Hu Jintao, general secretary of the Communist Party of China (CPC) Central Committee, said the resumption of talks between the ARATS and the SEF showed that the two sides had the wisdom and capacity to overcome existing problems through dialogue.
"As long as the both sides can build mutual trust, shelve differences, seek common ground and create a win-win situation, we will be able to continuously advance our negotiations and score more positive progress," Hu said.
He said the two agreements would contribute to the realization of direct links for mail, trade and transport services across the Straits.
The ARATS and the SEF are authorized semi-official organizations engaged in talks on issues related to cross-Straits exchanges in absence of official links.
Talks were suspended in 1999 after then-Taiwan leader Lee Teng-hui defined cross-Straits ties as a "special state-to-state relationship".
Chiang said he had talked with his mainland counterpart about more topics that might be on the future agenda, including direct shipping and oil and gas exploration in the Taiwan Straits.