LONDON -- Secret government documents detailing the fight against terrorist financing have been found on a train, a newspaper reported on Saturday, the second time in a week that top-secret files have been mislaid.
The Independent on Sunday said the papers divulged Britain's policy on fighting global terrorist financing, drugs trafficking and money laundering, and analysed how Iran could contravene international financial rules to finance weapons.
The newspaper did not reveal any details in the documents and said it had handed them back to authorities.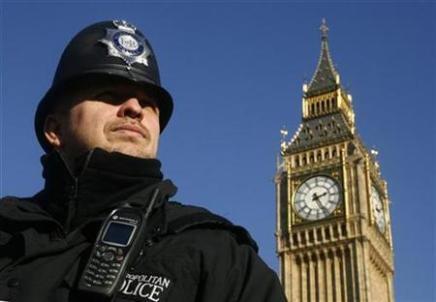 A British Metropolitan police officer stands on duty outside the Houses of Parliament in central London. [Agencies]
"The confidential files outline how the trade and banking systems can be manipulated to finance illicit weapons of mass destruction in Iran," the paper reported, adding that the documents discussed countries signed up to the global Financial Action Task Force.
"The papers also spell out methods to fund terrorists, and address the potential fraud of commercial websites and Internet payment systems."
The documents were left on a train bound for London on Wednesday, the paper said, the same day that a senior government official left top-secret files discussing the strength of al Qaeda and Iraq's security forces on a London commuter train.
Those documents were handed to the BBC, which reported their loss and then handed them in to police, who are conducting an investigation. There is no suggestion at this stage that the losses are linked.
The government has said it will hold an inquiry into how the al Qaeda documents were mislaid. The official who lost them has been suspended. There was no immediate word from the government about the loss of the finance documents.