CAPE CANAVERAL, Florida -- The US space shuttle Discovery landed at its home port on Saturday, wrapping up a mission that gave Japan a permanent toehold in space and setting NASA up for its next flight -- a high-profile servicing call to the Hubble Space Telescope.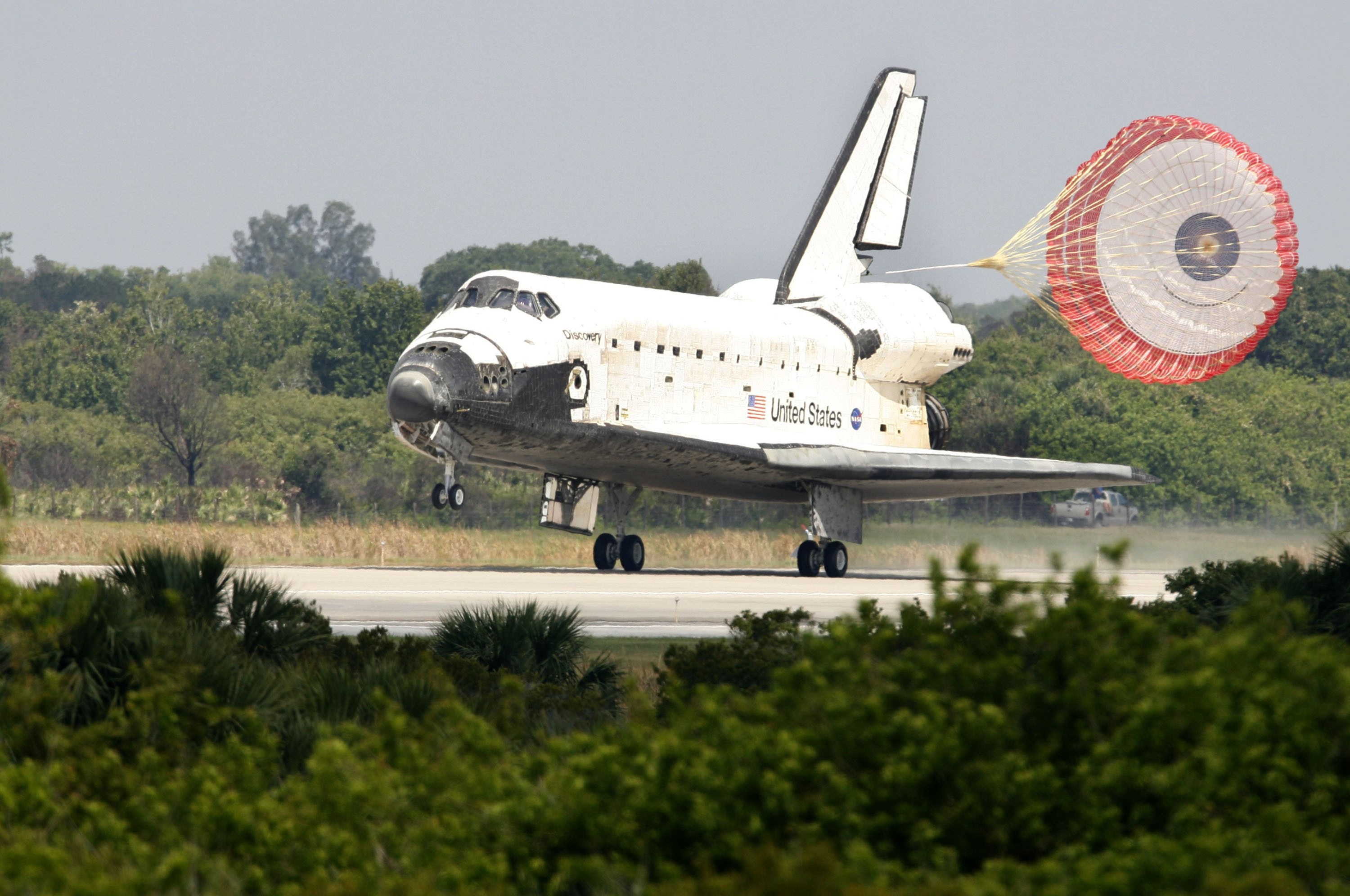 The space shuttle Discovery lands ending Mission STS-124 to the International Space Station, at the Kennedy Space Center in Cape Canaveral, Florida June 14, 2008. [Agencies]
Descending seven times steeper than a commercial jet, shuttle commander Mark Kelly arced Discovery through a sweeping circle to burn off speed after a two-week, 5.7-million-mile (9.2-million-km) trip at a top speed of 17,500 miles per hour (28,000 km per hour).
"Beautiful landing Mark and congratulations on a great mission," astronaut Terry Virts from NASA's Mission Control in Houston told Kelly as the shuttle came to a stop after touching down at the Kennedy Space Center in Florida at 11:15 a.m. EDT (1515 GMT).
Among those watching Discovery complete NASA's 123rd shuttle mission was space station flight engineer Greg Chamitoff, who blasted off aboard the shuttle on May 31 to replace returning station crew member Garrett Reisman.
Reisman, who has been in space for three months, rode home on the shuttle's mid-deck alongside astronauts Michael Fossum and Japan's Akihiko Hoside.
"What an awesome sight to be able to watch the space shuttle land live here onboard the space station," said Chamitoff, who was watching a NASA television feed. "It was a spectacular mission from end to end, practically flawless."
Chamitoff asked flight controllers to keep the TV feed on for a while, which showed the winged spaceship parked on the canal-lined runway and surrounded by lush Florida marshlands. In the background was the blue Atlantic, sights Chamitoff won't see for another six months.
MISSION TASKS
Discovery returned with its cargo hold nearly empty after delivering the main section of Japan's elaborate Kibo laboratory to the space station.
The 32-ton module was so big, Discovery didn't have room to carry an inspection boom used to scour the spacecraft's body for damage caused during launch, and had to borrow one left aboard the station by the previous shuttle crew in March.
Checking shuttles for damage before they return to Earth has become a routine part of missions since NASA lost Columbia in 2003. Seven astronauts died when the ship broke apart as it headed toward landing in Florida.
In addition to installing Kibo, the seven-member Discovery crew delivered a new pump for the station's broken toilet and prepared the $100 billion orbital outpost for a crew of six, rather than the current three, beginning next year.
Until Discovery's last day in space, NASA had few technical issues to worry about. As the crew prepared for landing, they spotted a piece of debris floating past the shuttle's cargo bay and then thought they saw a bump in the shuttle's tail.
The debris turned out to be a clip that anchored a section of the tail during the rigors of launch and was not needed for re-entry into the atmosphere or landing.
The apparent bump was also rapidly resolved after being identified as a trick of lighting and camera angle.
TEN LEFT
The mission leaves NASA with just 10 flights remaining in its space shuttle program, including a mission in October by the shuttle Atlantis to Hubble, the first major optical telescope to be placed in space.
Before Atlantis is cleared for that flight, however, NASA needs to repair a launch pad damaged during Discovery's liftoff, which blew out more than 5,400 bricks from an underground pit known as the flame trench.
Shuttle managers said a repair plan should be in place by the end of the month.
NASA plans to end its 27-year-old shuttle program in 2010.
A new spaceship that can travel to the moon as well as ferry crews to the space station is scheduled to debut five years later.
In between, the US plan is to depend on Russia to fly astronauts to and from orbit unless a commercial carrier becomes available.