Guangzhou -- Freak rain lashed eastern and southern China in the past few days, causing deaths and massive evacuations.
Six people died and four were missing after rainstorms devastated part of southern Guangdong Province and triggered the biggest river flood in nearly half a century, officials said on Saturday.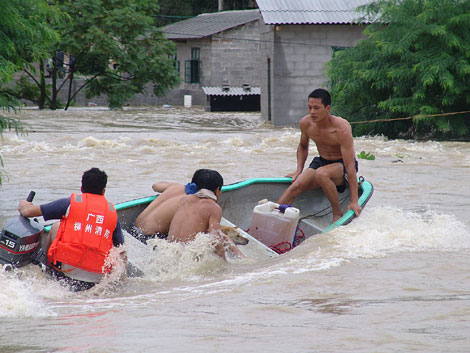 A rescuer worker (L) evacuates stranded residents in flood-ravaged Liuzhou, Guangxi Province, June 14. [Xinhua]
From 7 pm Friday to 7 am Saturday, 103 monitoring sites across the province reported precipitation of more than 100 mm, with the heaviest -- 269 mm -- in Duanfen Town, Jiangmen City, the Guangdong Provincial Flood Control and Drought Relief Headquarters said.
The deaths included four in Shenzhen and two in Shaoguan. The missing included two in Heyuan and one each in Qingyuan and Shaoguan, it said.
With frequent natural disasters, the central and local governments have become more skilled in handling emergencies such as floods. This has just been shown in the aftermath of the May 12 earthquake in Sichuan Province.
Although there have been some deaths in the outbreak of rainy weather, emergency measures taken by local governments have proved rather effective in reducing casualties.
On Friday, the Guangdong provincial flood control headquarters raised the flood emergency response level from Grade IV to III, highlighting the urgency of prevention efforts.
Some 100,000 residents in Lechang City, Guangdong, were evacuated after the city was flooded by the swollen Wujiang River, but no casualties were reported.
On the river's Lechang stretch, the flood crested at 91.12 m, 3.92 m higher than the alert level at midnight on Friday. The river's water level has begun to fall slowly.
At 7 am Saturday, the Xijiang River in Guangdong also surpassed alert levels in many sections, according to the headquarters.
There had been no casualties from the flooding of the Wujiang and Xijiang rivers, it said.
Rains totals of more than 200 mm from 8 am Friday to 8 am Saturday also ravaged 12 counties in eastern Fujian Province, with a maximum of 451 mm falling in Yunxiao County. Nearly 10,000 people in the worst-affected areas were evacuated, but no casualties have been reported in Fujian.
In Yongzhou City, Hunan Province, some 180,000 people were displaced as of noon Saturday due to continuous heavy rainstorms from June 8 to 13, but no casualties have been reported.
Precipitation in two counties in 24 hours in Yongzhou set new records, and all its 11 counties were hit by the rain, whose length, coverage and amount were highly unusual, the Yongzhou flood control headquarters said.
About half of the county seats of Jianghua and Daoxian were inundated in water up to 5 m deep, it said.
In neighboring Jiangxi, some 84,000 residents were evacuated and 12,000 trapped by floodwaters were rescued, according to the provincial flood control headquarters.
One person was reported killed in a landslide in Jiangxi.
Some 190,000 people, including 1,000 soldiers, have been mobilized to join the flood prevention and relief efforts, according to the Jiangxi provincial flood control headquarters.
Jiangxi Governor Wu Xinxiong ordered that rescuers "continue effective disaster prevention and relief efforts and keep losses at a minimum."
In Liuzhou City, Guangxi Zhuang Autonomous Region, more than 50,000 residents were displaced after rainstorms moved into the area Thursday.
Nearly 800,000 people in Liuzhou were affected by floods, and 93 primary and middle schools had to suspend classes.
Wuzhou City in Guangxi activated a flood emergency response plan at noon on Saturday to prepare for flood crests in rivers upstream. A flood crest on the Guijiang River is forecast to reach Wuzhou City late Saturday.
Meanwhile, water in the Xijiang River's section in Wuzhou is rising by 15 cm per hour. The water level was likely to reach 25 m on Sunday afternoon and if it surpassed 26 m, the district would be seriously threatened.
The piers of several major bridges in downtown Wuzhou were completely submerged in river floodwater on Saturday. More than 4,000 people are on stand-by for emergency rescue operations in the city.
The autonomous region's communications department said 68 highways in the region were cut off by the rain disasters, although 40 re-opened to traffic after emergency repairs on Saturday.