China and Germany announced on Friday they will resume strategic and human rights talks later this year, a favorable turn after bilateral ties soured due to German Chancellor Angela Merkel's meeting with the Dalai Lama last autumn.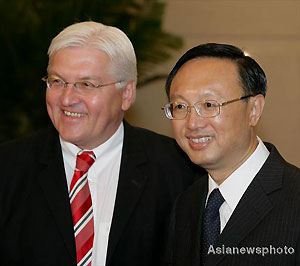 Foreign Minister Yang Jiechi meets his German counterpart Frank-Walter Steinmeier in Beijing on Friday. [Asianewsphoto]
Foreign Minister Yang Jiechi announced the decision after meeting with his visiting German counterpart Frank-Walter Steinmeier, who has been at the forefront of diplomatic efforts to repair relations with Beijing.
"We should read and push forward the relations from a strategic height and long-term view and use various dialogue mechanisms to exchange views, boost mutual trust and properly handle discrepancies," Yang said at a joint press briefing after the 80-minute discussion.
"So we decided to resume the strategic talks and human rights talks in the second half of this year."
Following Merkel's meeting in September with the Dalai Lama in Berlin, a series of bilateral talks, including ones on human rights and vice-foreign minister-level strategic talks, were canceled.
The Chinese government has long objected to officials from any country having contact with the exiled separatist.
Steinmeier, who avoided meeting the Dalai Lama when he visited Germany in May, said Berlin has a strong interest in developing ties with Beijing.
"We are committed to the One China policy and have made it an unshakable premise when mapping out our China policies," he said.
"All the people familiar with China know the country will play a decisive role in the development of the world and the international order Germany wants to accompany China as a partner on the way toward the future and shoulder responsibilities together."
Steinmeier also said Germany will help China build eight schools in Sichuan and expressed sympathy to the quake victims, adding China's open attitude and solidarity of its people in face of the disaster had impressed Germany.
"It is in times of disaster that people can really learn the greatness of a country and its people. The solidarity of China has won our supreme respect."