CHENGDU -- Quake-battered Sichuan Province reopened 13 cities and prefectures to tourists on Saturday in a move to revive its once-booming travel industry.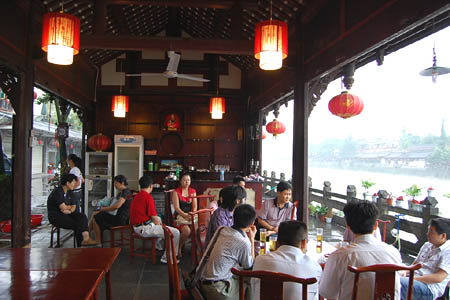 Visitors have a rest at a tourist spot in Dujiangyan City, southwest China's Sichuan Province, June 14, 2008. The day is the third national cultural heritage day. The scenic spot of Dujiangyan, which had been once closed due to the May 12 quake, reopened to the public Saturday. [Xinhua] 
The cities are Zigong, Panzhihua, Luzhou, Suining, Neijiang, Leshan, Nanchong, Yibin, Guang'an, Dazhou, Meishan, Ziyang and Liangshan, according to the provincial tourism bureau.
"Among the world heritage sites, Dujiangyan-Qingcheng Mountain and the Wolong National Natural Reserve were just partly damaged. The Jiuzhaigou and Huanglong scenic spots, Ermei Mountain and the Leshan Giant Buddha suffered no damage in the earthquake," said Zhang Gu, the bureau head.
Special coverage:
Strong Earthquake Jolts China
Related readings:


Frugal life for pandas in Chengdu


China quake death toll rises to 69,170


Panda safety main concern of rangers


54 tourists dead in China earthquake
Of more than 4,000 scenic areas in Sichuan, 568 were damaged in the earthquake. Losses have been put at 27.84 billion yuan ($4.03 billion), according to the bureau.
The bureau expected tourism industry in the unaffected areas to show a 20-percent increase in revenues by the end of this year.
Rural tourism was expected to recover next year. The whole industry, including disaster areas, was expected to fully recover in about 2010, Zhang said.
The worst-hit places, including Beichuan County, Tangjiashan, and Hanwang Town in Mianzhu City, were expected to be built into world-class earthquake museums in three years, he said.
Tourism revenue in Sichuan was 121.7 billion yuan in 2007, accounting for 11.6 percent of the province's gross domestic product. More than 400,000 people are working in the industry.