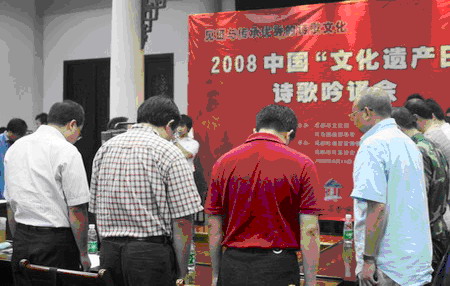 Poets bow to show their condolence for the victims of the May 12 earthquake before the recital started in the Du Fu Thatched Cottage Museum in Chengdu, Sichuan Province Sunday morning. [Huang Zhiling/chinadaily.com.cn]
The Du Fu Thatched Cottage Museum in Chengdu, where the roofs of some buildings were broken and some walls had cracks in the earthquake, opened on June 14, which was China's second Cultural Heritage Day, with a gathering of famous, amateur and student poets.
They recited poems in praise of soldiers and public-spirited people for their selfless relief work in the wake of the earthquake as well as stalwarts saved from the debris.
"It is hoped the poems can inspire people who are reconstructing their homeland," said Jia Lan, curator of the Du Fu Thatched Cottage Museum.
The museum is dedicated to Du Fu, one of China's greatest poets, who wrote 240 poems while living in Chengdu in the Tang Dynasty (AD 618-907).