DEYANG, Sichuan -- Gary Lundstrom, executive vice-president of the US NGO Samaritan's Purse, said he wants his organization to function as "the other chopstick" in its aid efforts in quake-hit areas.
The American escorted disaster relief materials to the city of Deyang Sunday and pledged to work closely with municipal leaders in fighting the disaster.
He said that the municipal leaders and his NGO are "like two chopsticks".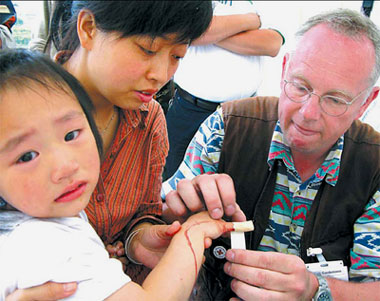 German doctor Joachim Gardemann checks a young girl's finger, which she injured in the quake, at a makeshift hospital in Dujiangyan, Sichuan province, May 25, 2008. [China Daily]
"One chopstick can't pick up anything, but two are very good. We would like to be the other chopstick."
Two weeks on from the May 12 quake, aid continues to flow in from all over the world.
According to Ran Jingjun, an official of the Sichuan civil affairs department, relief materials from more than 40 countries, regions and international organizations have arrived in Sichuan, and more is on the way.
A special channel has been established at the airport of the provincial capital Chengdu, which allows foreign aid workers and their airlifted cargo and to pass through customs in several minutes.
Samaritan's Purse is the first foreign NGO to have airlifted relief materials to Sichuan in a chartered Boeing 747.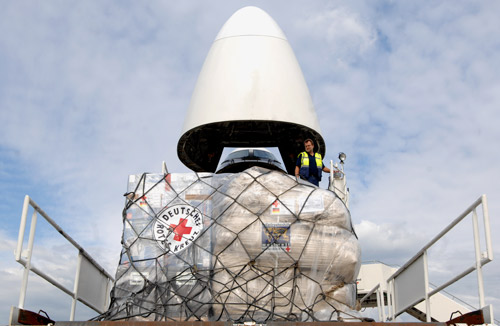 A man works on a plane, which is transporting relief materials to China, at the airport in Berlin, May 22, 2008. On Thursday, Germany donated 120 tents and a mobile hospital which can look after 250,000 people in China's earthquake-hit areas. [people.com.cn]
The aid, including enough materials to provide temporary housing for 3,400 families, as well as water purification units, blankets, hygiene kits, basic utilities, baskets and cans to carry clean water, arrived Sunday in Deyang along with five supporting staff.
The first water purification system will be installed today in Luoshui, where the quake destroyed the town's water tower, putting the drinking water of 12,000 people at risk.
"We appreciate the timely aid from our American friends," said Chen Yuanshou, head of the local water plant.
In Dujiangyan, a German mobile hospital, equivalent to a district-level medical institution, is expected to receive its first patients today.
In 25 tents, the hospital includes an operating room, an X-ray room and a laboratory, and has enough supplies to function for several months. It can look after 120 patients and provide medical services for 250,000 people.
In a laboratory, Hannelore Fleischmann, a technician from the German Red Cross, was helping Chinese doctors to categorize the various reagents the German team had brought.
"It's a very pleasant partnership," said Xu.
"We are excited because we can now conduct blood, urine, blood sugar, HIV, liver and kidney tests."