MIANYANG, Sichuan -- Amid low visibility, a Russian helicopter successfully delivered a large bulldozer and other eight sets of big machineries near the swelling Tangjiashan lake, in order to dig a diverting channel to prevent a flood, said Minister of Water Resources Chen Lei.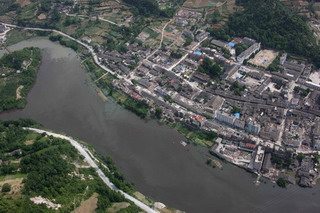 Photo taken on May 22, 2008 shows an aerial view of part of the Tangjiashan lake created by landslides in Beichuan county, Sichuan province. [Xinhua]
Meanwhile, more than 1,000 soldiers have arrived at the barrier on foot with about 10 tons of dynamite, which they will use to blast the lake barrier in case bad weather and low visibility which have continued to hamper airdrop efforts.
"I feel relieved this morning as we have reached the area," said Chen, who is in charge of dealing with the emergency situation of dozens of quake lakes in Sichuan. Quake lakes were formed after landslides blocked rivers.
During an interview with China Daily, Chen expressed sincere thanks to Russian pilots because of their bravery and encouragement. A Mig-26 helicopter can typically fly with a minimum visibility of five kilometers, but on Monday in Tangjiashan, the visibility was only two kilometers. "We asked for help in this difficult time, they agreed and finally we succeeded," he said.
At 11:13 am, a Mig-26 helicopter carried a large bulldozer from Leigu to the vicinity of Tangjiashan quake lake which could only be reached on foot. Chen hoped the weather will allow the helicopter to deliver more big machinery to dig channels to drain the barrier.
"All these mean we can officially start to deal with swelling lakes now," said Chen, adding it first time he spoke to the media, as he was not in the mood the previous days to do failures to deal with the possible flooding situation.
Other helicopters managed to airdrop materials for the operation by 7:49 am Monday at the top of the quake lake at Tangjiashan in Beichuan County. It was formed by landslides that blocked a local river known as Jianhe after the May 12 earthquake.
The swelling lake is 3.2 km upstream from the Beichuan County seat, from which thousands of quake survivors have been evacuated since last Wednesday.