NANJING -- Kuomintang (KMT) Chairman Wu Poh-hsiung Monday stressed "reconciliation, harmony and peace" for cross-Straits relations as he arrived in this capital city of Jiangsu province on the first leg of his six-day trip.
The 69-year-old leader's visit is also the highest level contact between the two sides across the Taiwan Straits in more than 60 years.
At the invitation of Hu Jintao, general secretary of the Communist Party of China (CPC) Central Committee, Wu kicked off his visit a week after Ma Ying-jeou of the KMT took office as leader of the island.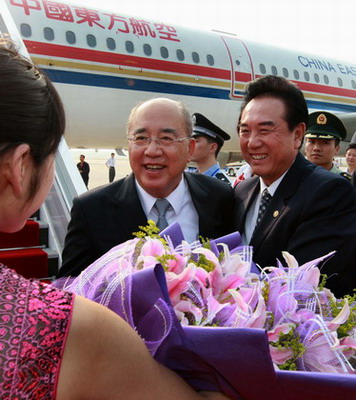 Kuomintang (KMT) Chairman Wu Poh-hsiung (C) is welcomed by Chen Yunlin(R), director of the Taiwan Work Office of the Communist Party of China Central Committee, in Nanjing, capital of east China's Jiangsu Province, on May 26, 2008. [Xinhua]
Wu was given a red-carpet reception attended greeted at the airport with a hug from Chen Yunlin, director of the Taiwan Work Office of the CPC Central Committee.
At Wu's suggestion, people observed a minute's silence to mourn those killed in the May 12 earthquake.
"People in Taiwan have shown deep concern over the earthquake and the affected and quickly donated money and relief materials," Chen said. "Let me, on behalf of compatriots from the mainland, extend gratitude to them."
"Currently the mainland-Taiwan relations have entered a spring for peaceful development."
Wu said the blood bonds of people across the Straits has become "so noticeable" through their concern for quake victims.
Leading a 15-member delegation including two vice-chairpersons, Wu said earlier at Taipei airport that his mainland visit would be conducive to the peaceful development of both sides of the Straits.
"As a new era begins, we shall reconcile with each other, exchange ideas, live in harmony and mutually strive for peaceful development," Wu said.
"There might be many difficulties, but when we get firm-minded in settling them, we will surely achieve peace and development, and I am quite confident about this," he said.
Wu will pay his respects to KMT founder Sun Yat-sen's mausoleum today, before flying to Beijing ahead of tomorrow's talks with Hu.
He is expected to put forward suggestions for promoting mutually beneficial cooperation across the Taiwan Straits, including the proposal for launching cross-Straits charter flights and opening the island to mainland tourists.
Wu will visit Shanghai on Thursday to meet with Taiwan investors before heading to Yixing, Jiangsu province, for a prayer meeting for China's earthquake victims.
Last night, Liang Baohua, Party secretary of Jiangsu province, hosted a banquet in their honor of Wu and his delegation at the Jinling Hotel.
As leader of the economic hub of Taiwan investment, Liang promised to better protect the legitimate rights and interests of Taiwan businessmen in the province and ensure them a more salubrious living environment.