In a brave industry shake-up, Beijing has ordered its six telecom companies to merge assets, and create three hi-tech conglomerates that will compete with each other to offer fixed, mobile, broadband and future telecom services.
The overhaul is expected to have a long-lasting effect on a massive and rapidly growing market.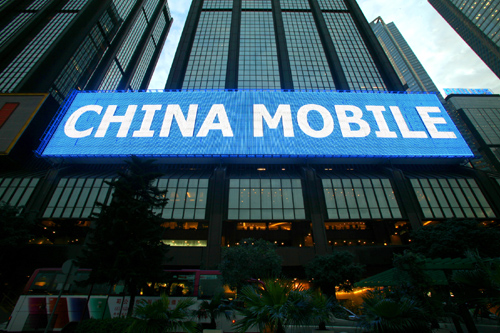 A neon sign of China Mobile is seen on an office building in Hong Kong Special Administrative Region in this undated photo. [file]
China, with 1.3 billion people, is already the world leader in mobile phone and Internet users. The central government will issue three third-generation wireless licenses to the three mega companies after the overhaul is completed, sources told chinadaily.com.cn.
Under the plan revealed by Beijing over the weekend, the parent of China Telecome Corporation, will buy a mobile-phone network from China Unicom Ltd's parent, which in turn will merge with the company that controls China Netcom Corporation.
Industry analysts said that the reform will help China Telecom and China Netcom expand their operations to compete against China Mobile Ltd.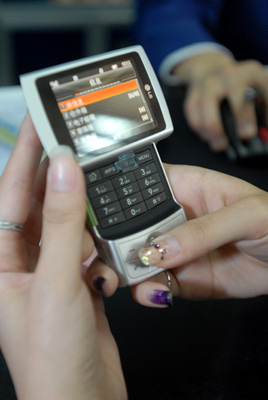 A customer tries a 3G mobile phone at a store in Shenyang, Northeast China's Liaoning Province, April 1, 2008. [Xinhua]
The $105 billion industry has room to expand because six out of 10 people still don't own mobile phones and 82 percent of the population lacks Web connections.
The reform is designed to foster "healthy market competition and prevent a monopoly by any," according to a joint statement, issued by the Ministry of Industry and Information, Ministry of Finance, and the National Development and Reform Commission.
China Mobile Communications Corp., the state-owned parent of China Mobile Ltd, which is listed in Hong Kong, will take control of fixed-line operator China Tietong Telecommunications Corpration.
China Telecom, China's biggest fixed-line company, will acquire Unicom's smaller mobile-phone network, which provides services to 43 million customers based on the code-division multiple access technology used in Japan and South Korea.
China Telecom will also get China Satellite Communications Corpration's phone assets. China Network Communications Corporpation will merge with Unicom's parent to offer fixed-line and mobile- phone services based on the global system for mobile communications technology that's used in most of the world.
Unicom had 125.4 million GSM customers as of the end of April, according to the company. Netcom, the nation's second- largest fixed-line company, had 108 million phone users. China Mobile, which counts more than two-thirds of the nation's mobile-phone users as customers, will take control of unlisted Tietong.
Tietong, which means "railway telecom" in Chinese, had assets of 55.3 billion yuan as of the end of 2006.
China Mobile, with 399.6 million customers as of April 30, posted profit of 87.1 billion yuan last year. The company's dominance of China's wireless market helped its stock triple in the past two years, overtaking General Electric and Microsoft to become the world's fourth-largest company by market value.
Chinese regulators aim to boost competitiveness at fixed- line operators before the nation rolls out 3G high-speed wireless services, which will require billions of dollars in investments for network equipment.
The government has said it plans to offer 3G during the Olympic Games in August.
China had 583.5 million mobile-phone users at the end of April, exceeding the combined populations of the US and Japan.