Russia's policy on China will not change under the Kremlin's new leadership, a senior Russian diplomat said on the eve of President Dmitry Medvedev's visit to China.
Medvedev, who replaced Vladimir Putin as president on May 7, will land in Beijing this afternoon on his first official visit as head of state outside the Commonwealth of Independent States.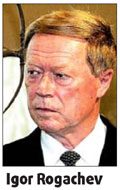 "They (Putin and Medvedev) were partners, so they will also be in the future. They are like from one family, and their philosophy is also exactly the same," Russian ambassador to China from 1992 to 2005 Igor Rogachev told China Daily, speaking in fluent mandarin.
"They have been working together for more than a decade This relationship won't change, and neither will Russia's domestic policy and foreign policy, including China policy."
Both Putin and Medvedev hold special feelings toward China, he noted.
As the chairperson of organizing committees of the Year of China in Russia and the Year of Russia in China, held respectively in 2006 and 2007, Medvedev has forged close relations with China's top leaders, said Rogachev, who as a fellow member of the organizing committees exchanged views with the president on Sino-Russian relations.
"Our leaders, including President Medvedev, are greatly satisfied with the events, as they have resulted in much benefit for both countries."
Last year, when Putin met with President Hu Jintao in Bishkek, Kyrgyzstan, they decided to institutionalize the best part of the events.
"I am sure that President Medvedev would like to continue this plan."
"As for Prime Minister Putin, he visited China several times when I was the Russian ambassador to China. Every time he showed great interest in China's reform and opening up policy, and raised many questions."
In the eyes of the longest serving Russian ambassador to China, the most significant purpose of Medvedev's visit is to ensure China that Russia's attitude will not change after some pundits overplayed tiny shifts in the strategic partnership following Russia's change of leadership.
"We have also seen some fresh faces in China's leadership recently," said Rogachev.
"We hope and believe that China's new leaders will maintain a consistent policy toward Russia."
Although the economic cooperation between the two neighbors saw a 44.3 percent surge in 2007 to $48 billion, Rogachev believes much more needs to be done to boost economic ties.
"Bilateral economic cooperation lags far behind our political cooperation," he said. "Thus our goal should be to achieve a balance between them, especially in the export of Russia's mechanical products to China."
The two governments should also pay attention to protection of the boundary rivers and look to increase medical exchanges, Rogachev said, noting he himself had benefited greatly from Chinese medicine.
The 76-year-old diplomat has had regular check ups from traditional Chinese doctors since 1992 and followed a lifestyle recommended by them. He has even named himself "Gaoshou", which means longevity in Chinese.
"I am in good health now, thanks to Chinese medicine," he said. "Based on my own experiences, I believe that our bilateral relations have great potential and will have a bright future."