China and Russia will issue a joint statement during Russian President Dmitry Medvedev's upcoming weekend visit to Beijing, which will highlight their mutual understanding of major international issues, a senior Russian diplomat said.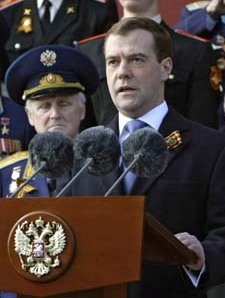 Russia's President Dmitry Medvedev speaks during a World War II victory ceremony in Moscow's Red Square May 9, 2008. [Agencies]
"I strongly suggest experts study the document, as it details China and Russia's standpoints on many international issues, including the new international order, global security and stability, and the new challenges," said Russian Ambassador to China Razov Sergey at a press conference Tuesday.
Medvedev announced on May 8 - the day he was sworn in as Russian president - that he would visit China and Kazakhstan, making China his first foreign destination outside the Commonwealth of Independent States as state head.
Accompanied by a large delegation made up of entrepreneurs and key government officials such as the energy and industry ministers, Medvedev will meet with his Chinese counterpart Hu Jintao and Premier Wen Jiabao during his stay from Friday to Saturday.
The two sides are very likely to sign a cooperative agreement on nuclear energy during the visit, Sergey said, without giving further details.
"The president will also give a speech at one of the oldest and most prestigious universities in China, which is very important," said the ambassador, referring to Peking University.
It will be the first time the new president will speak publicly outside Russia. China's CCTV will broadcast the speech live.
"I'm sure people in China and other countries will be very interested to learn the president's ideas on developing Russia and its external relations directly from his mouth," Sergey said.
Li Hui, assistant minister of the Foreign Ministry, said Medvedev is "an old friend of the Chinese people" and has made great contributions to bilateral ties as the head of the organizing committee of the Year of Russia in China and the Year of China in Russia, held in 2006 and 2007, respectively.
"President Medvedev is making China his first foreign visit only half a month after he took office. This shows the high importance he himself and the Russian government give to China-Russia relations," Li said.
Condolences to victims
At the press conference, the Russian ambassador expressed his sincere condolences to quake victims in Sichuan on behalf of Russia. Yesterday was the second day of the three-day national mourning period.
"The pains and grief of our Chinese friends are also our sorrow. As a strategic cooperative partner and friendly neighbor of China, we heartily sympathize with you," Sergey said.
Moscow sent medical staff and disaster relief materials to Sichuan after the magnitude-8.0 earthquake rocked the southwestern province last Monday.
The Russian rescue team saved a 61-year-old woman trapped under the debris in the city of Dujiangyan on Saturday after working for nearly 40 minutes.
Large Olympic delegation
Sergey also said Russia would send a large delegation of more than 460 members to attend the Beijing Olympics, one of the largest delegations scheduled to come to Beijing.
Members of the Russian Olympic Committee visited Beijing a few days ago to tour facilities such as the residence of Russian athletes.
"They were satisfied," Sergey reported. "Some experienced leaders of the committee said the facilities and Olympic village in Beijing are the best among what they've seen."
A Russia leader of "very high level" will attend the Beijing Olympics, added Sergey, without naming the politician.