Despite not being able to find anyone alive in the rubble over a week after the May 12 earthquake in Sichuan, local residents thanked the Japanese rescue team for their efforts.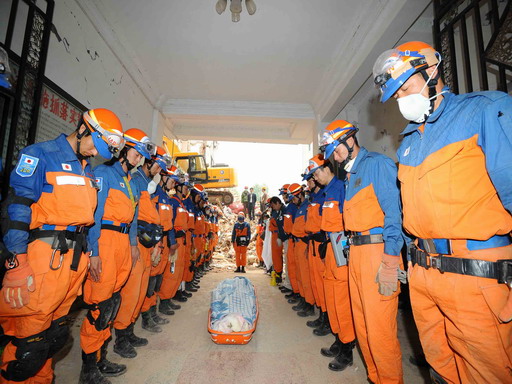 Japanese rescue members pay respects to the bodys of the female victim Song Aimei and her 70-day-old baby after 16 hours of searching through the debris in Qingchuan County, Sichuan Province. [Xinhua]
With the help of life detecting and location devices, digging equipment and rescue dogs, the Japanese team even had to dig through the debris with their hands due to severe destruction from the 8.0-magnitude quake.
"It's really sad we couldn't find anyone alive in the rubble and I regret my incompetence," an unnamed Japanese rescue team member wrote on Tuesday in the comment section following a news report about their rescue efforts on the Yahoo! Japan website.
Another team member surnamed Saito says the encouragement from the local residents was the warmest motivation for them to continue searching and they worked hard thinking, "there is hope of finding one more alive", according to reports from Kyodo News Monday.
The team stopped its search and rescue operations Monday afternoon due to the risks of dam bursts and aftershocks and returned to Tokyo Wednesday morning.
The 60-member team arrived on May 16 and since them recovered 18 bodies from the rubble, including a 70-day old baby in Beichuan and Qingchuan, the two most affected counties in the quake-hit area.
A woman named Song Aimei and her baby were trapped under the collapsed building for over 110 hours when their lifeless bodies were pulled out Saturday.
With their heads bowed, all the team members, standing in rows facing the corpses paid their last silent respects at around 7:30 am after 16 hours' search.
"We felt very, very sorry that we weren't able to save more lives," said a team member surnamed Tanaga after the impromptu memorial held beside the debris of a middle school in Beichuan.
According to the anonymous rescue member, another team member felt so sad that he had decided to resign.
However, Chinese people across the country applaud the Japanese rescue team for their efforts.
"A lot of thanks to the Japanese rescue team and we appreciate their deep concern and respect for the life,"a Chinese netizen named "eodf" said.