CHONGQING - More than a week after the magnitude-8 quake hit Sichuan, stories of miraculous rescues continue to emerge.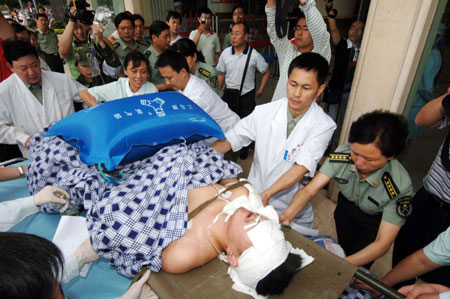 Ma Yuanjiang is rushed to Xinqiao Hospital in Chongqing after he was rescued on Tuesday. [Xinhua]
A 60-year-old woman was rescued at 6:45 pm on Tuesday from rubble in Pengzhou, Sichuan, more than 196 hours after the May 12 earthquake, Xinhua reported.
Wang Liqun, a retiree from the provincial capital of Chengdu, survived on rainwater, and was conscious when rescuers found her and rushed her to hospital, it said.
Wang was inside a temple when the quake struck. She was hit by a falling girder, according to the rescue team.
She crept out of the temple and fell in coma again after making some 800 meters. Most of her body was buried in rubble when she was found on Tuesday.
No updates of her condition were available.
In another case, Ma Yuanjiang, a power plant executive, was rescued at around 1 am on Tuesday from the rubble in Wenchuan county, the epicenter, nearly 179 hours after the May 12 quake.
He was able to speak after being rescued, and began to eat a little shortly after, said Wu Geng, Ma's colleague and head of the plant, who was at the rescue site.
Ma was in a meeting when the quake ravaged the office building, and he was trapped in the debris of the second floor.
The 31-year-old was pulled out by a Shanghai rescue team after more than 30 hours of effort.
Rescuers found Ma on Sunday afternoon when they were digging a hole to reach Yu Jinhua, Ma's colleague. Yu was pulled out at about 6 pm after an amputation.
Rescuers then sent water to Ma through a long straw as they tried to figure out a way to reach him.
The collapsed building left little room for maneuver and more than 100 members of the Shanghai Police and Firefighters Disaster Rescue Team, dug inch by inch.
After 30 hours, they chiseled through about 10 cement slabs, and opened a 10-m tunnel.
Ma suffered lacerations on his abdomen when he was pulled out; and he was rushed to Xinqiao Hospital in Chongqing.
His internal organs were in good condition, but the left forearm had to be amputated, said doctors.
He also suffered tissue infections.
"The next 12 hours are crucial. The patient managed the first half of a miracle, now we are trying to do the second," hospital president Wang Weidong said on Tuesday.
On Monday, rescuers saved four people, one of whom later died. Among them was a lime pit miner rescued at around 4:30 pm, 170 hours after the quake.
He was in a stable condition, military sources said on Tuesday.
Peng Guohua was found buried in a 10-m-deep lime mine near the Suishui township of Mianyang's Anxian county.
He was working when the mine caved in and sealed him inside.
The 37-year-old lived on clean toilet paper and his own urine for 170 hours.
He was taken by an ambulance to a military medical team stationed in Anxian county at around 5 am on Tuesday.
Sichuan Party chief Liu Qibao said on Monday that about 9,500 people remained under debris.