MOSCOW  -- China is one of Russia's most important partners in the world arena, Russian President Dmitry Medvedev said in a recent interview with major Chinese media in Moscow.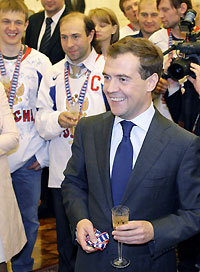 Russia's President Dmitry Medvedev toasts during a meeting with the Russian national ice hockey team in Moscow, May 20, 2008. [Agencies]
"Russia regards China as one of its foremost partners in its foreign policy," Medvedev said on the eve of his first visit to China after taking office on May 7.
The president expressed sincere condolences to the leaders and people of China over the devastating earthquake that shook the country's southwestern province of Sichuan on May 12.
"Our thoughts are with you at the moment, and we believe that China is capable of emerging from the aftermath of the disaster," he said.
Medvedev added that Russia, which has already sent several batches of humanitarian aid as well as rescue and medical teams to China, is willing to offer more help in the future.
On the Beijing Olympic Games, Medvedev expressed his belief that China has the capability to successfully organize the grand sports event, and that Chinese athletes will excel at the games, as will their Russian friends.
"At least half of Russia will watch the Beijing Games with enthusiasm. Sports telecasts by Russian media will record the highest audience rating," he added.
BILATERAL RELATIONS
Related readings:


 Russia viewed as a friendly neighbor


 Strategic partners to maintain status quo: Senior diplomat


 Joint Mars exploration schedule to be confirmed to ensure original plan proceeds smoothly


 Nuclear ties set to be upgradede
Sino-Russian relations have strengthened steadily since the signing of the bilateral Good-neighborly Friendship and Cooperation Treaty in 2001, Medvedev said, adding that mutual coordination is making progress in every field.
"The three-year plan inked by the leaders of the two countries has completed its term. We are now going to make a new plan, which will further enhance bilateral relations," he said.