CHENGDU -- The eight pandas chosen to entertain tourists during the Beijing Olympic Games will arrive in the capital on May 24 as scheduled, despite the killer quake which has resulted in havoc in the Wolong Nature Reserve in Sichuan province.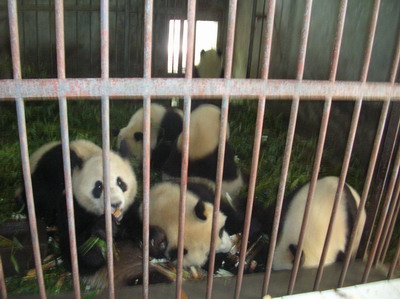 Eight pandas chosen for the Beijing Olympic Games wait at Chengdu Research Base of Sichuan province May 23, 2008. The bears are scheduled to arrive in Beijing at about 5 pm Saturday. [By Huang Zhiling\Chinadaily.com.cn]
The bears will leave the Chengdu Research Base of Giant Panda Breeding in this capital of Sichuan at 11 am for the Shuangliu International Airport in the city where a charter flight will take them to Beijing at 3 pm.
After more than two hours' flight, they will land in the capital, said Wang Chengdong, deputy chief of the Chengdu Research Base of Giant Panda Breeding.
He disclosed the bears arrived in his base before 2 am on Monday morning from Wolong after traveling by road for more than 10 hours, compared with normally some three hours.
"Because roads were blocked, they took a turnabout way and crossed the Jiajin Mountain to reach Chengdu from Ya'an, a city in western Sichuan. Four keepers from Wolong have accompanied the bears to the Chengdu base and the bears are all in good health," he told chinadaily.com.cn.
When journalists took pictures of the bears in a den in Wang's base yesterday afternoon, they were impressed with the bears devouring bamboo fed by a woman keeper.
According to Xiong Beirong, director the wildlife protection section of the Sichuan Provincial Forestry Bureau, the bears will be accompanied during the flight to Beijing by their keepers who are quite familiar to them. They will take care of the bears during their stay in Beijing and help them get over any after-quake mental problems.