Authorities are facing an arduous task to restore water supplies to areas hit by last Monday's earthquake, an official has said.
Shao Yisheng, general secretary of the China Urban Water Association, said 7,800 km water pipes were damaged in the quake, although supplies in the worst-hit areas have been "basically" restored.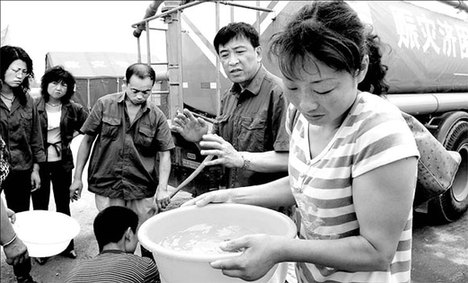 Quake survivors sheltering at an unfinished stadium in the city of Mianzhu, Deyang, Sichuan province, collect water last Friday from a tanker sent by the local government. [China Daily]
The association has called on its members across the country to dispatch professional repair teams to disaster areas, some of which have already arrived.
The Sichuan provincial construction department said 5,000 km of the damaged pipes served cities in the province. Also, 839 tanks and 1,281 water treatment works have been damaged, affecting 10.59 million people across the province.
The water supply to the 11 million people of Chengdu, the Sichuan capital, was largely unaffected, it said.
However, in medium-sized cities such as Dujiangyan, Mianzhu and Shifang, which are close to the quake's epicenter, supplies have been severely affected due to damaged equipment and contamination, the department said.
As a result of leaks, the water pressure in those cities is less than a third of its normal level, it said.
"Because of all the leaks, only 40 percent of the water is getting to the people," an official with the Sichuan Water Association was quoted by China Business News as saying.
"Local water plants are working overtime to increase the supply of clean water," he said.
In areas close to the epicenter, including Beichuan and Wenchuan, water supply facilities have been totally destroyed, the official said.
The biggest challenge facing the recovery effort is the shortage of funds, he said.
An estimated 250 million yuan ($36 million) will be needed to repair the water pipes in the province and 70 million yuan to repair treatment facilities.
To speed up relief work, the Ministry of Water Resources has ordered the Shanghai water affairs bureau to take responsibility for the restoration of the water supply to Mianzhu and Shifang.
On Tuesday, the bureau dispatched a 70-member team to repair pipes in the two cities.
The supply network in urban areas of the quake zone has been badly damaged, leaving 1.1 million people completely cut off, the bureau said.
Also on Tuesday, the National Development and Reform Commission allocated 160 million yuan to help build emergency water supply systems in rural areas of the quake zone.
Xinhua contributed to the story