Some Chinese students at the University of Washington held a candlelight vigil and fundraising event for the victims of the 8.0-magnitude earthquake in Sichuan Province on the school's Seattle campus.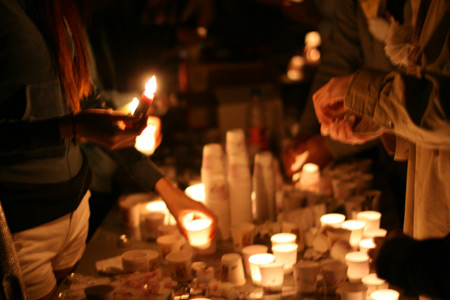 Students hold candles at a candlelight vigil at the campus of University of Washington, May 20, 2008. [pandamessenger]
The vigil organized by the Chinese Students' Association and the Chinese Students' Scholar Association began at 8:30 pm May 20. About 100 people, including some UW professors, American students and citizens, held candles and stood silently for three minutes to pay their respects to the quake victims.
Li Yongxian, a zoology professor and Zeng Zongyong, an archeology professor who teach at Sichuan University were in Chengdu when the earthquake struck. They arrived in Seattle on May 20 for an exchange program with UW.
They attended the vigil and described the massive devastation to the crowd. They said they feel confident the Sichuan people will conquer their current difficulties to begin a new life.
The vigil raised about $5,800 for quake relief that night.
Post-graduate student Qi Lifeng has organized a group to gather donations and have so far raised $1,100 to give to the Red Cross Society of China.