73 hours: Kept alive by mother's love
Driven by a mother's love for her son, a 46-year-old quake victim in Beichuan amputated her own leg and drank her own blood to hold out for 73 hours under rubble before being rescued.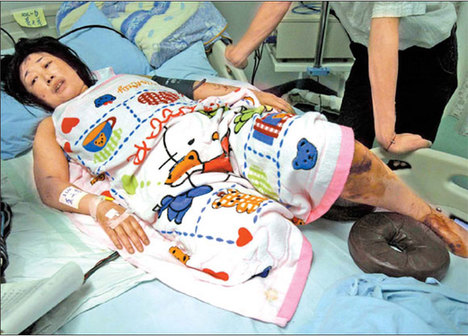 Before her ordeal, Gong Tianxiu was known as a faint-hearted person who did not dare sleep alone.
The risk manager of the Agricultural Bank of China's Beichuan branch was at home with her husband when the earthquake struck on May 12. The building collapsed before they had time to take cover in the bathroom.
Gong's husband protected her from debris by shielding her closely with his body. Before he died, he told Gong to be strong, and to guide their son Wang Tao, who graduated from a university last year, in life.
A large cement slab had fallen onto Gong's right leg and she was bleeding badly. She kept calling for help, but no one answered.
"I wanted to die at that time, but when I remembered what my husband had told me, I thought I should live on," she said.
To stay alive, Gong pounded her own leg with a brick and drank her blood, which had to flow through her husband's back before reaching her mouth.
The next day, Gong's company director came to the disaster site and finally heard her call for help. The cement slab weighing on her was too big to be moved by rescuers, but they fed her water through an opening in the debris.
On the third day, firefighters arrived and cleared the debris, but they did not move the cement slab for fear of it collapsing further.
Gong told a rescuer that her lower right limb was jammed under the rubble and was nearly severed from her thigh.
She asked him to bring a saw and amputated her right leg with it.
"I was desperate. I did it for my son. As long as I can still see him and look after him, I'm satisfied. My son is my hope. He is my husband's hope," she said.
Gong is being treated at a hospital in Mianyang. Doctors said her condition is stable.
Her son also arrived in Beichuan from Chengdu on the third day of the quake.
80 hours: Fighting to the very end
Chen Jian, 26, continued talking to rescuers and reporters as he was pulled out from the rubble of a collapsed building in Beichuan, Sichuan province, 80 hours after the May 12 earthquake caused the structure to buckle and collapse.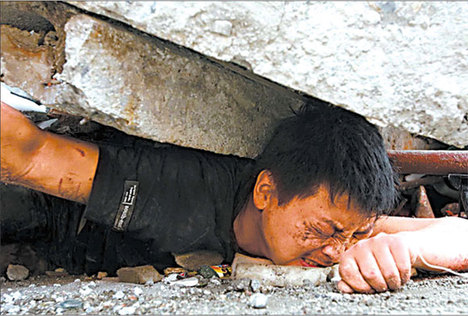 "I don't want my child to be born without a father I am so lucky to be alive I have been trapped under three pre-cast slabs for three days without anything to eat or drink I survived this disaster because I'm destined for good fortune in the future I have to be strong for my wife and unborn child, for everyone who loves me I have no wild ambitions, I just want a peaceful life with my wife "
Rescue workers discovered Chen buried in the rubble when they noticed his arms poking out of the building's ruins.
He says his powerful will to live came from his powerful love for his family.
"The first two days were the most difficult days of my life; I felt so desperate," Chen said calmly as rescuers hauled the slabs off his body. "I was afraid I wouldn't survive and almost gave up, but when I thought of my wife and unborn child, I told myself: 'You have to hold on'."
At that moment, rescuers discovered the full scale of Chen's predicament: His body was firmly sandwiched between two slabs. Although he could not move his head, he continued chatting as cheerfully as ever.
He asked a reporter to call his wife, whom he had married last year, and tell her he was fine and she should not worry.
He even encouraged the rescuers: "You have to be tough, too. Don't be afraid of trouble."
One minute melded into the next as rescuers used special equipment to hoist the slabs off the man. It was getting dark.
Chen eventually succumbed to delirium. He began repeating "the hoisting jack" in a quavering voice and sometimes also said: "A boat is coming to pick me up."
Around 8:40 pm, Chen was finally pulled from the rubble. However, after 80 hours of fighting against death, Chen lost the battle.
His wife and unborn baby are still waiting for him at a rescue center in Mianyang.
160 hours: A final reunion
On May 19, rescuers extracted a woman who had been buried for more than 160 hours, but she died soon afterward, Beijing Youth Daily reported.
Her rescue came a week after the 8.0 magnitude earthquake that devastated southwest China. Wang Fazhen, 53, was pulled from the wreckage of an apartment building in Hanwang town, Sichuan province.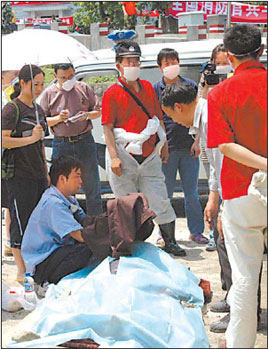 It took about half an hour to pull her from the ruins of the collapsed building, which housed Tianchi Coal Mine employees. Rescuers had reportedly been searching for survivors there for days.
Eleven people were in the building when the quake hit, and seven victims had been found by May 18. Rescuers were working to retrieve a body from the rubble when they heard a weak plea for help coming from the pile. It had been 160 hours since the quake destroyed the building, but Wang Fazhen was still alive, having spent several days pinned between a mattress and dresser without food or drink.
Her relatives were out searching for her at the time of her rescue.
Rescuers rushed her to the nearest emergency medical station, but a doctor at Dongqi Hospital realized she had stopped breathing before her arrival. She could not be revived.
According to the news report, Wang said she felt sunshine on her face when she saw her family one last time before dying.
164 hours: Back from the brink
Li Ningcui, 61, received medical treatment in Beichuan county on Monday, after being trapped beneath rubble for 164 hours.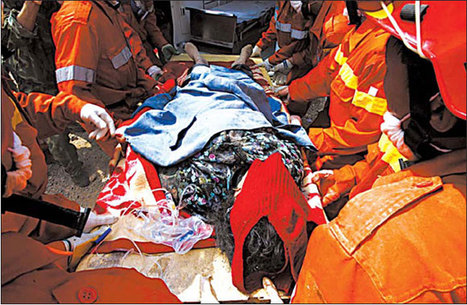 Rescuers discovered the woman in the rubble of a bazaar destroyed by the May 12 earthquake at 9:48 am on Monday. By 10:42 am, rescuers had freed her from the ruins and rushed her to the nearest hospital.
"It was a miracle of life," Xinhua News Agency quoted medical worker Zeng Jun as saying. "After several hours of emergency treatment, Li showed signs of normalizing and can answer simple questions."
Her son, Zhao Jun, who learned of the rescue on television and rushed to the hospital, described his mother as "an ordinary old lady who's not in good shape".
165 hours: Out after a week
As soon as rescuers pulled Wang Chunbang out of the manganese mine in Qingchuan county at 11 am on Monday, the pit's opening collapsed.
Wang, 56, had been trapped in the mine for 165 hours - almost one week - after the quake hit the region.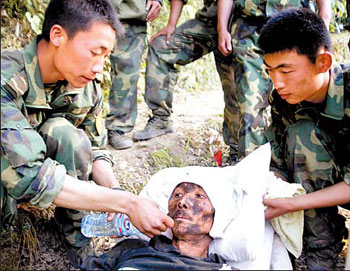 On May 12, Wang and seven other colleagues were working in the mine. Wang hid under a tramcar and managed to escape getting crushed by the collapsed ceiling. His fellow miners did not make it.
The debris blocked Wang's way out of the mine. He decided not to risk trying to get out and waited for help instead.
Wang tried every means possible to stay alive. On the fifth day, he drank his own urine to stave off dehydration.
A rescue team made up of soldiers from the city of Jinan in Shandong province managed to reach Wang at 9 am on Monday. A child had told the rescuers he heard weak breathing from inside the mine.
An aftershock hit the area as rescuers removed rubble from the mine opening to reach Wang, but two hours later, they found the miner together with the bodies of his colleagues.
Wang was found to be extremely weak but alert. He was transferred to a nearby town by 10 rescuers and is recovering in a hospital.
179 hours:  Rescued after amputation
Earlier Tuesday, Ma Yuanjiang, a power plant executive, was rescued at around 00:50 am from the rubble in Wenchuan County of southwest China's Sichuan Province, nearly 179 hours after the May 12 earthquake.
He was surprisingly able to speak after being rescued, and shortly after he began to eat a little, said Wu Geng, Ma's colleague and also head of the plant, who was at the rescue spot.
Ma was at a meeting when the magnitude 8.0 earthquake ravaged the plant office building, and he was trapped in the debris of the second floor, which has presented huge difficulties for rescuers.
The 31-year-old survivor was pulled out by a Shanghai rescue team from the debris of an office building at a flattened power plant, after more than 30 hours' efforts.
Rescuers found Ma in the afternoon on May 18 when they were digging a hole trying to reach Yu Jinhua, a colleague of Ma.
Followed by an amputation operation, Yu was rescued at about 6:00 p.m. on May 18. Rescuers then turned to Ma and sent sweetened water to him through a straw.
Ma was receiving treatment at the temporary clinic of the Chongqing No. 3 Military Hospital, and will be sent by air to a hospital in Chengdu.
Ma, who is a power generation department deputy director of the Yingxiu Bay Hydro-Power Plant, is the only survivor saved so far on Tuesday.