Gynecologist Wang Li was preparing to deliver a baby in a Pengzhou county hospital when the massive quake struck on May 12.
"I was the first to shout 'earthquake!' when the building suddenly shook violently," she told the media.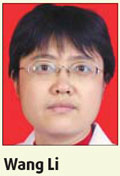 Her office on the second floor faced the stairs and she could have rushed out easily - but the pregnant woman was in the operation theater on the same floor.
Wang ran into the operation room and helped the woman crouch next to a bed.
The thought of her son flashed through mind at that moment: He is a college student in Chengdu, capital of Sichuan.
"He lives on the sixth floor of the dormitory building. So I was really worried about his safety," she recalled.
She got news later that both her son and husband were safe.
Once the quake halted, she moved the pregnant woman downstairs to the open.
Luckily, the building was standing; and Wang and other staff went up to the third floor to bring down three other pregnant women in chairs even as they felt the aftershocks.
Meanwhile, the condition of the first pregnant woman was getting serious and "a cesarean delivery had to be done immediately", Wang said.
So the woman was moved back to the operation theater on the second floor, where Wang delivered a baby boy.
Since then, Wang spent most of her time in the hospital, delivering babies one by one.
The quake brought new meaning to the 40-year-old, who delivered 36 babies in the first five days after the disaster - she was quietly fighting a battle against death by bringing new lives to the world.
"It was like declaring victory against the disaster each time I helped someone give birth," Wang said.
When praised for bravery in the face of danger, she said: "I am a gynecologist and I'm just doing my job."