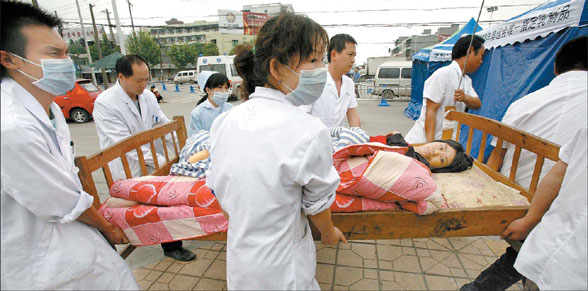 Medical workers transport an injured earthquake survivor to a makeshift tent from an overcrowded hospital in Shifang, Sichuan province, on May 15. Reuters
The very first news stories in the aftermath of the quake were about medical personnel who moved patients from trembling buildings to safety. Much of the news came from Chengdu, the provincial capital of Sichuan, which had relatively stable signals from news outlets.
On the evening of May 12, footage of medical staff in white gowns evacuating from the Chengdu Maternity Hospital was seen on national television.
Nurses were carrying babies, one under each arm. A woman whose water had just broken was wrapped in a thick blanket and carried out. Several doctors and nurses wheeled out another woman.
A newborn was bottle fed by a nurse out in the open. Tents were set up in a nearby park, and medical care continued for the new mothers and mothers-to-be.
These scenes were just the tip of the iceberg of the dedication and professionalism demonstrated by many of the nation's medical service providers. When disaster struck, they put the lives and safety of the patients above their own. Along with the rescuers who have been digging through the rubble in search of the trapped, they symbolize life and hope for those impacted by this massive disaster.
Pregnant nurse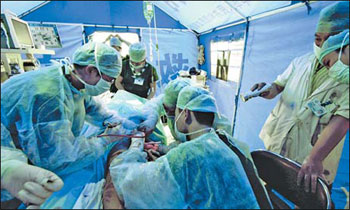 Doctors operate on an injured person in a tent in earthquake-devastated Shifang, on May 17. Chen Shichuan
May 12 was International Nurse Day. When the quake hit, Chen Xiaohu and her colleagues were enjoying a celebratory party on the third floor of Sichuan Provincial Hospital. After the building began shaking, they rushed up to the 21st floor where 68 patients were receiving care. Half of them had difficulty walking on their own.
The 24-year-old Chen carried 66-year-old Li Zhiwan on her back. Li was suffering from a kidney disease, and his only relative around at the time was a 63-year-old brother, whose ability to help was limited. When they reached the elevator, she saw a colleague helping a 70-year-old woman. So, she put Li down first and helped wheel the old lady into the elevator. Then, she nudged Li in as well.
Once all the patients had left the building, Chen and other nurses hurried back to fetch medicine, equipment, oxygen canisters and even beds for those who needed intensive care.
She did not remember how many trips she took. "I only remember those patients who couldn't walk on their own. Their eyes were full of helplessness and fear."
By 4 pm, Chen felt a sharp pain in her stomach and waist. Two days earlier she had learned she was one month pregnant. After an examination, a doctor informed her she just had a miscarriage and advised her to go home and rest.
"I did what anybody would do in my situation," Chen explained. "I'm still young and can have my baby later."
Angels at work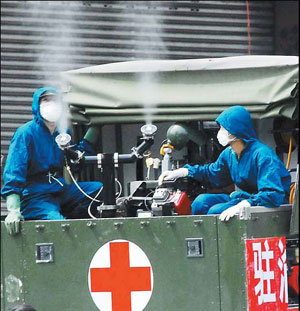 Medical personnel spray disinfectant to prevent epidemics at Hanwang town in Mianzhu, on Sunday. Niu Yixin
In China, medical workers are often called "angels in white", in reference to the white gowns they don. To someone just extracted from debris, bruised or seriously hurt, the sight of the white gown is one of hope. As of Saturday, as many as 36,000 of these "angels" from all over the country have descended upon the quake zone. Yang Zhanyu, 42, is one of them.
Yang is an associate professor at Chongqing's Southwest Hospital, an affiliate with the army. His wife was out on an assignment and they have a 10-year-old daughter. "Dad has to be away for a few days," he told her, "because there were many people whose lives are in danger. You should stay home and study."
With these words, he entrusted his daughter to the care of their nanny.
But what made Yang special is his background. He is a survivor of the 1976 Tangshan earthquake. "I was 10 and was buried for six or seven hours. My legs were broken," he recalled. Yang, who lost his mother and a brother in the quake, was rescued and taken inside a makeshift tent.
It was pouring outside. The injuries on his back were infected, which left many scars. But his life was saved. Seven days later, he was transferred to an outside army hospital, where he received heartwarming care. Since then, he was determined to become an army doctor.
On Sunday, Yang flew in a military helicopter, accompanying Shen Peiyun, a survivor who was pulled out after 146 hours.
Heroes among them
The most heroic medical professionals are those within the realm of the epicenter who have had to withstand enormous physical and psychological pressure but have not only lived up to the name of their profession but rather, glorified it with their extreme bravery and perseverance.
Xie Shouju is a doctor at the maternity ward of the county hospital in Beichuan, one of the most severely devastated towns. When she was pulled out of the rubble on Thursday afternoon by a rescue team from Hainan province, she simply joined the medical team at the scene.
Xie was sleeping on a sofa in her first-floor apartment when the quake struck. The sofa toppled and turned upside down, both trapping her and providing enough space for her survival. To preserve energy, she did not scream for help. Later, she heard the noise of the rescue operation and used a cooking utensil to knock on the debris. But her husband, trapped on the other side of a wall, could not be easily extracted.
Xie said it was better to leave his rescue to professional rescuers, while she herself devoted her time to her own profession, helping in the best way she could.
Psychologists have said that many who were recently traumatized would delve into something distracting in an escapist attempt to numb themselves and temporarily forget the suffering. The enormity of the Sichuan earthquake has knocked many off balance emotionally, and it will be some time before survivors learn to grieve and grapple with the post-quake realities. That is not to underrate the altruism and professionalism of the medical workers, though.
"Whenever I'm caught up in my work, I'll naturally stop weeping and bury myself in what I must finish. But when I go back home and lie down on my bed, I just cannot help shedding tears," said Huang Qiong, who had finished 100 operations in a Mianyang hospital where she is a surgeon. She had received news that seven of her relatives lost their lives in the quake.
Among the dead was her elder sister's daughter. When her sister and brother-in-law went job searching out of town, she suggested they send their daughter to a school in a nearby town, where she was crushed in a collapsing building. Now, Huang was feeling guilty.
Fortunately, her husband and their own son survived. The teenager burst into tears when he saw his parents.
The pain of losing so many loved ones weighed heavily on all of them. Huang's son decided to serve as a volunteer in the hospital and help those his mother was helping.
Huang said she channeled her grief into something worthwhile, because "you cannot revive the dead, but you can help the living live a little better. And it is the best you can do for the dead if you help heal the wounded and facilitate their recovery".
When asked to assess what she has been through, Huang Qiong said: "There is nothing special about me. If I'm a hero, all medical professionals at the frontline here are heroes."