The nation's dog lovers have been warned that they must get their pooches vaccinated against rabies or risk "serious punishment".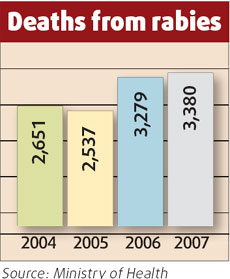 According to a regulation issued on Friday by the ministries of health and agriculture, all dogs in China are required to be vaccinated against rabies.
A total of 3,380 people were killed in China by rabies last year, according to statistics from the Ministry of Health.
A joint statement issued by the ministries said that owners who refuse to get the dogs vaccinated will face "serious punishment", while legal action will be taken against owners whose dogs cause the spread of the disease.
Currently, less than 10 percent of dogs are vaccinated against the disease that affects the nervous system.
Most of these are registered dogs in cities, Ding Zhengrong, an epidemic prevention official in Yunnan province, said.
"If the dogs aren't vaccinated, it's their owners' fault," Beijing pensioner and dog lover De Shulan, said.
She has registered both of her dogs and got official licenses.
"With the licenses, my dogs receive free annual vaccinations against rabies at a designated pet clinic," De told China Daily. Beijing has more than 300 such facilities.
It cost De 1,000 yuan ($140) to register each dog and 500 yuan a year to renew the licenses.
The payments vary depending on different cities.
Dog lovers in Guangzhou have to pay 10,000 yuan for registration and then 6,000 yuan a year to keep their canine companions.
However, such a clear-cut dog registration and vaccination system is lacking in the countryside, meaning most of the people who contract rabies are rural dwellers, Ding said.
The new regulation requires strengthened vaccination work in rural areas.
Meanwhile, city dwellers have been urged to help the authorities to track down stray dogs to ensure they are vaccinated.
An official from the dog keeping administration office in Beijing's Dongcheng district called on the public to report abandoned animals by calling a hotline on 01064005129.
"They will be taken to the sanctuary, where they will be vaccinated and stay until they get new owners," the official said.