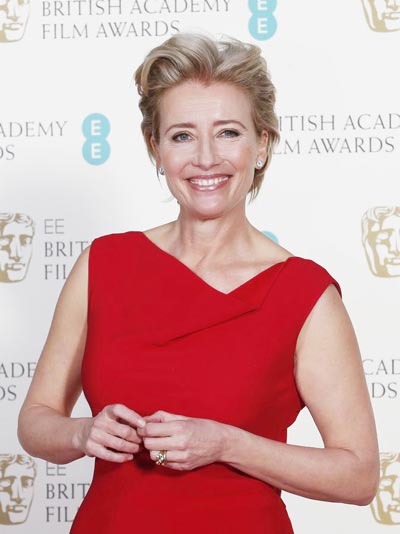 Emma Thompson poses in the Winner's Area at the British Academy of Film and Arts (BAFTA) awards ceremony at the Royal Opera House in London February 16, 2014. [Photo/Agencies]
The most valuable piece of hardware in Hollywood is the 13-and-a-half-inch (34-cm) golden
Oscar
statuette, so it is no surprise recipients of the top film honors keep theirs in a variety of safe spots.
Emma Thompson, a two-time winner for "Howards End" and "Sense and Sensibility," has stowed her Oscars in the bathroom, or rather loo, of her London abode.
"It's full of my most precious possessions," Thompson said. "So it's not as if I'm being rude. It's an important place to me. And the downstairs loo is sort of the place that all your guests use. And it's nice for them to have a go, pick them up."