Take a walk on mild side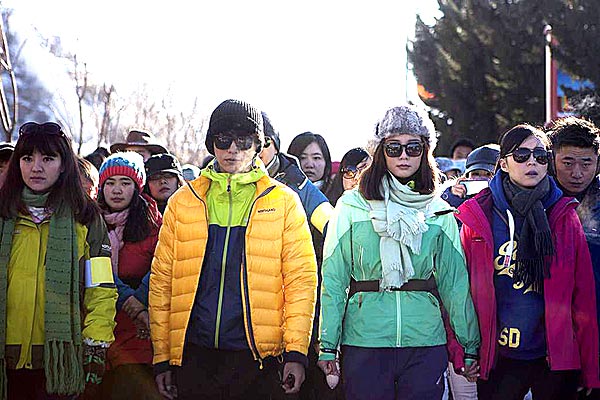 Celebrities including (from left to right)Jing Wei, Chen Kun, Wang Luodan and Zhang Jingchu take their twohour mind-purifying walk in Lhasa joined by some 1,500 local residents. Provided to China Daily
Under a cloudless blue sky that re-emerged after the first snow of 2014 fell on the sacred city of Lhasa, some 1,500 local residents joined actor Chen Kun in an urban journey designed to help participants purify their minds.
The two-hour walk, joined by actress Zhang Jingchu andfilmdirector Zhang Yang, started from Lhasa's central Dzongyab Lukhang Park, and passed some of the city's most famous scenic spots, such as the Lalu Wetlands and Jokhang Temple. Finishing in the Potala Palace square, the walk followed the route that Tibetan people take to pray for blessings.
Calling Lhasa the nearest place to the heart and sunshine, Chen says it was his particular intention to organize the walking event in winter. Lhasa in winter sees much fewer tourists due to thinner air, but it's a time the city particularly lives up to its title as the "sunshine city", says Chen.
"As an actor, one of my important jobs is to absorb new things from the outside world. Lhasa is full of sincere eyes and smiling faces. They're all very good nutrition for me," says Chen, who was recently appointed by the Lhasa government as the city's image ambassador.
As one of China's best-known and most popular actors, Chen rose to fame through a few well-acclaimed TV dramas and later became an award-winning film star through quality art productions such as The Knot (2006).
In recent years, he also showed a strong box-office appeal. In 2011, Hong Kong's Tsui Hark's 3-D martial arts blockbuster Flying Swords of Dragon Gate, with Chen as a leading actor, grossed more than 600 million yuan ($99 million). In the following year, Chen's magnum opus Painted Skin: The Resurrection, the sequel to an equally influential 2008 magic blockbuster also starring Chen with actress Zhou Xun and Zhao Wei, grossed a record-setting 700 million yuan at the box office.
However, starting in 2011, Chen slowed down the pace of his acting career by devoting more time to a personal endeavor. The "power of walking", an annual event initiated by Chen in 2011, promotes "reflecting upon and talking to oneself in the process of silent walking".