Take a walk on mild side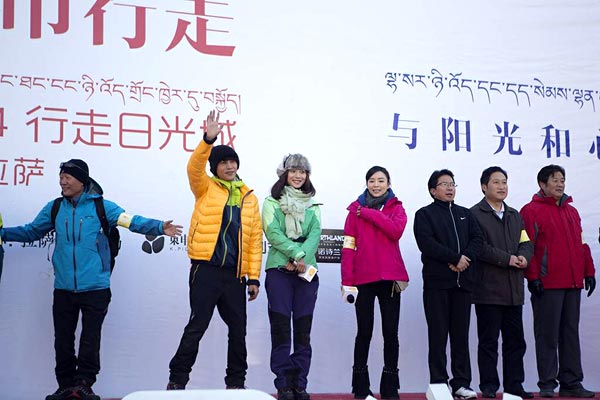 Celebrities take their twohour mind-purifying walk in Lhasa joined by some 1,500 local residents. Provided to China Daily
As their first event, in August 2011, Chen and 10 volunteers from Beijing universities spent 11 days walking around Tibet. In 2012, Chen and ateam of 80 participants walked 180 kilometers in 10 days in the depth of the Anemagen Mountains of Qinghai province, marching through depopulated zones while battling the threats of icefall and wild animals.
In August 2013, Chen came back to Tibet with 110 volunteers. They made it through the Garma Valley on the east slope of Mount Qomolangma, known in the West as Mount Everest, a route once crowned by Western explorers as the most beautiful but also the most dangerous.
Along with the walkabouts, they also have public welfare practices, such as picking up garbage on the way and sending volunteers to teach in rural schools for half a year. But Chen insists their main purpose is about mind training. He believes long walking is a process of looking into one's heart, trying to answer unsolved questions and finding peace.
"But don't expect to find the answers immediately: 10 days of walking can't solve a year's problems. What we try to spread now is a seed," he says.
But the walking-thinking practice doesn't necessarily require a long and challenging route. People can start a reflective journey by simply walking around their city. That's why he also initiated urban walks like this Lhasa event. In 2012, some 5,000 residents in Xining, Qinghai province, joined Chen in a 10-km walk around the city.
Every three months, Chen and his team will publish a book with participants, including writers, volunteers and actors, sharing their thoughts and experiences during the walking. Chen wanted to prove to the public what he's doing now is more than a publicity stunt by persisting in this new "career".
"Once the walking starts, it will never stop," he says.