Justin Bieber's arraignment set in drunken driving case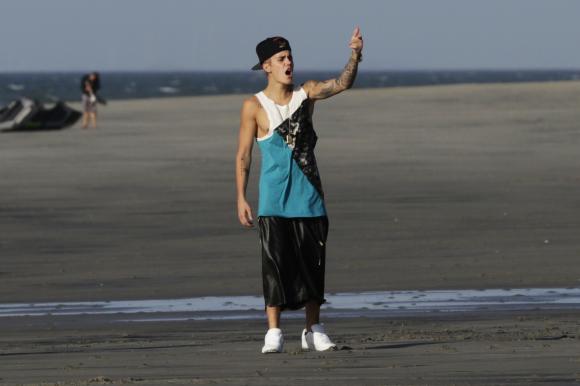 Canadian pop singer Justin Bieber gestures at a beach as he takes a break in a resort in Punta Chame, on the outskirts of Panama City January 27, 2014. [Photo/Agencies]
Teen pop star Justin Bieber will be arraigned next month in Miami, following his arrest last week on a charge of drunken driving when he was caught drag racing in a rented Lamborghini, according to court records published on Tuesday.
Bieber, 19, will be arraigned on February 14 on the driving under the influence charge, as well as charges of driving on an expired license and resisting arrest without violence.
The pop star is not expected to appear at the Valentine's Day arraignment.
It was the first arrest for the Canadian singer, whose life off-stage has taken a tumultuous turn in the last year with problems ranging from scuffling with paparazzi in London to a felony investigation into whether he pelted a neighbor's house with eggs in his gated community near Los Angeles.
If convicted of the charges in Miami, Bieber could face jail time of up to six months, although experts say he will likely get off with a lighter sentence for his first offense.
He was spotted by police in the early morning on January 23 in a yellow Lamborghini alongside another driver, aspiring R&B singer Khalil Sharieff, in a rented red Ferrari drag racing on a four-lane road in a residential area a few blocks from Miami Beach's South Beach tourist and night life district.
Two SUVs had blocked off the road so Bieber could race Sharieff, police said.
Bieber was driving the sports car 55 to 60 miles per hour (88 to 96 km per hour) in a 30-mile-per-hour zone, according to police.
Bieber, who is one of the top celebrities on Twitter with nearly 50 million followers, told police he had taken prescription medicine, had been smoking marijuana and had consumed alcohol.
Roy Black, the high-profile criminal defense attorney who has represented actor Kelsey Grammer, as well as radio talk show host Rush Limbaugh, will represent Bieber in the case.