Doctor convicted in Michael Jackson death leaves prison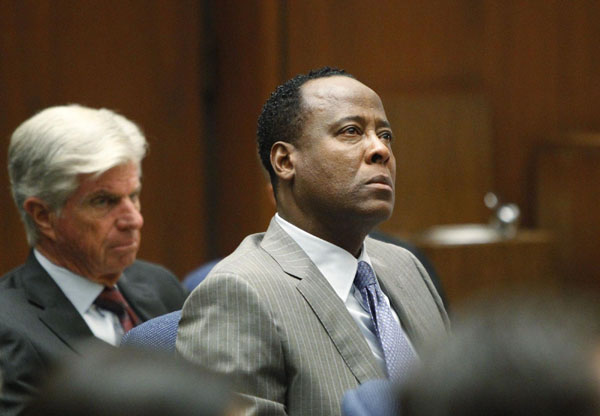 Dr. Conrad Murray (C) looks up during the opening arguments in his trial in the death of pop star Michael Jackson in Los Angeles September 27, 2011.[Photo/Agencies]
Michael Jackson's personal physician, convicted of manslaughter for administering a lethal dose of anesthetic to the pop singer, was released from a Los Angeles prison on Monday after serving half of his four-year sentence.
Conrad Murray was released to his representatives, Los Angeles County Sheriff spokesman Steve Whitmore said shortly after Murray left the county jail. The release came under a California state plan to reduce prison overcrowding.
Murray's six-week trial grabbed global attention after "Billie Jean" singer Jackson, preparing for a series of comeback concerts in London, died unexpectedly in 2009 at age 50.
Reporters waited outside the jail for Murray, but he was whisked out through a back exit away from view. A few Jackson fans were also were present, one playing music from his 1982 album "Thriller," the top-selling album of all time with more than 50 million copies sold.
Jackson's death prompted an outpouring of support for the "King of Pop" after years of bad publicity, stemming from his increasingly bizarre behavior and a child molestation trial in which he was acquitted. Today, he is the top-earning dead celebrity, according to Forbes.
Prosecutors successfully argued that Grenada-born Murray, who was hired by concert promoter AEG Live as Jackson's general practitioner, was grossly negligent in administering propofol, a drug that was used to help the singer sleep.
Related:
Michael Jackson verdict could shake up entertainment business model
Michael Jackson's ex-wife says daughter Paris is 'devastated'
Michael Jackson's teen daughter attempts suicide - mother
Michael Jackson's ex-wife says doctors took advantage of singer
Artists pay tribute to MJ at 'Michael Forever'
Defense criticizes Jackson crime scene investigation