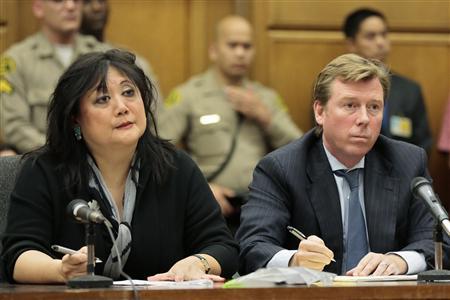 Attorneys for Katherine Jackson, Deborah Chang and Kevin Boyle (R) listen as jurors are polled following the verdict in Jackson's civil lawsuit against AEG Live at the Los Angeles Superior Court in Los Angeles, October 2, 2013.[Photo/Agencies]
A Los Angeles jury cleared concert promoter AEG Live of liability on Wednesday in a wrongful death lawsuit brought by the family of Michael Jackson, in a trial that offered a glimpse into the private life and final days of the so-called King of Pop.
The verdict, which concluded that the doctor the company hired to care for the singer was not unfit for his job, capped a sensational five-month trial that was expected to shake up the way entertainment companies treat their most risky talent.
"The jury's decision completely vindicates AEG Live, confirming what we have known from the start - that although Michael Jackson's death was a terrible tragedy, it was not a tragedy of AEG Live's making," defense attorney Marvin Putnam said in a statement following the verdict.
Putnam, who was heckled by Jackson supporters outside the courthouse, said after the trial that AEG Live had never considered settling the case out of court.
Still, the case sent shock waves through the music industry, with concert promoters as well as well-known entertainment insurers expected to beef up policies for acts they insure and potentially raise some prices.
Jackson's 83-year-old mother, Katherine, and his three children sued AEG Live over the singer's 2009 death at age 50 in Los Angeles from an overdose of the surgical anesthetic propofol.
The Jackson family claimed in its lawsuit that AEG Live, the concert division of privately held Anschutz Entertainment Group, negligently hired Conrad Murray as Jackson's personal physician and ignored signs that the "Thriller" singer was in poor health prior to his death.
The family matriarch was in court for the verdict, which came on the fourth day of deliberations, and appeared to be emotional as it was read, lifting her glasses to wipe at her eyes. She smiled briefly as she left the courtroom.
Related:
Michael Jackson's teen daughter attempts suicide - mother
Michael Jackson's ex-wife says doctors took advantage of singer
Artists pay tribute to MJ at 'Michael Forever'
Defense criticizes Jackson crime scene investigation