Michael Jackson's ex-wife says doctors took advantage of singer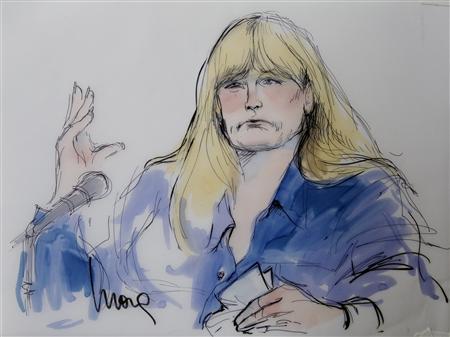 A courtroom sketch depicting the testimony of Debbie Rowe, ex-wife of singer Michael Jackson, is pictured during Katherine Jackson's negligence suit against AEG Live, at Los Angeles Superior Court in Los Angeles, California August 14, 2013.
Michael Jackson's doctors competed for his business and over-prescribed medications to help overcome his "incredible" fear of pain, the late pop singer's ex-wife testified on Wednesday in a wrongful death trial.
"His fear of pain was incredible. I think the doctors took advantage of him that way," Debbie Rowe said in Los Angeles Superior Court, which is hearing a lawsuit brought by the late singer's family against concert promoter AEG Live.
"Unfortunately, some of the doctors decided that when Michael was in pain they would try to see who could give him the best painkiller," added Rowe, 54, who met Jackson while working as an assistant for a dermatologist who treated the singer.
Rowe, who has rarely spoken publicly about Jackson, said the King of Pop was treated for several ailments, including lupus and severe scarring from burns on his head. She cried during parts of her testimony.
Rowe and Jackson were married from 1996 to 1999 and she is the mother of his two eldest children, 16-year-old Michael Joseph Jackson Jr., known as Prince, and Paris, 15. Rowe has no custody over the children, who live with their grandmother, Katherine Jackson.
Katherine Jackson and Jackson's children are suing AEG Live over the singer's 2009 death in Los Angeles from an overdose of the surgical anesthetic propofol, alleging that the privately-held company negligently hired Conrad Murray as Jackson's personal physician and ignored signs that the singer was in poor health prior to his death.
Murray, who was caring for Jackson as the singer rehearsed for his series of 50 comeback "This Is It" concerts, was convicted of involuntary manslaughter in 2011 for administering the propofol that killed the star.
AEG Live has argued that Jackson, who was 50 at the time of his death, had prescription drug and addiction problems for years before entering into any agreement with the company.
It also has said that it did not hire or supervise Murray and could not have foreseen that the physician would have posed a danger to the singer.
Katherine Jackson, the singer's oldest son and nephews T.J. and Taj Jackson, sons of brother Tito Jackson, already have testified. Neither Paris nor Jackson's youngest child, Prince Michael Jackson II, known as Blanket, are expected to take the stand.
Video-taped depositions of Paris and Jackson's older brother, Randy, have been entered as testimony in the trial, which started in April and is expected to finish in September.
Related:
Michael Jackson's son to testify in singer's wrongful death trial
Dispatch audio reveals details of Paris Jackson suicide attempt
Los Angeles judge orders probe after Paris Jackson suicide attempt