Basketball fans turn hoop dreams into real-time highlights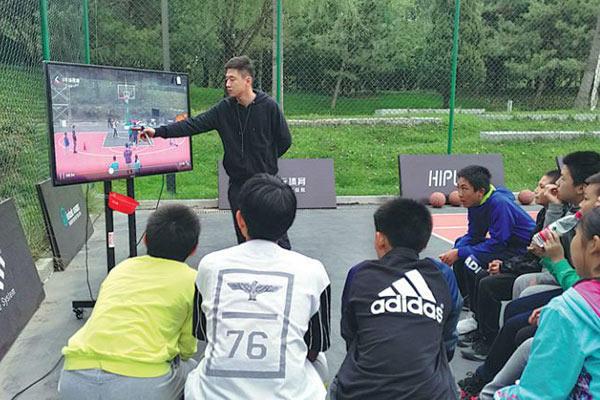 A basketball coach uses RootSports' video-review and analytics system to help players improve their skills.[Photo provided to China Daily]
They might not look like NBA stars, but they can certainly feel like them.
As online sports apps take off, basketball players in pickup leagues, particularly in China's first- and second-tier cities, can now experience the LeBron James effect for the Cleveland Cavaliers.
RootSports caters for fans between the ages of 15 to 45, who love playing the game.
They can now watch themselves compete in high definition with game analytics, such as match stats and points scored just like James and his elite colleagues in the NBA.
"The market is huge," said Wang Haibin, founder and CEO of RootSports, a Beijing-based startup and developer of the app.
"China has around 200 million basketball fans, among which more than 50 million will play the game," he added.
Before, only major league players had access to "real-time shooting and analysis systems".
But with multiple high-definition cameras positioned high above the basketball court, amateur players can now be filmed just like the pros.
Equipped with a sports video-review and a analytics system, the app then enables users to watch and edit their game instantly, as well as interact with other fans on social networking platforms.
Priced from 60,000 yuan ($9,040), the cost of Root-Sports experience is picked up by court operators, who make the money back from booking fees.
"Our app will encourage more users to participate in sports through social networking platforms," Wang said.
"Now they are able to play and train like the elite players and easily share the video with their friends," he added.
Wang admitted that the RootSports app is still a work in progress.
But plans are underway to introduce new functions and elements with the help of smart technology.
"We still need to improve the system to provide more value-added functions in the app," he said.
"In the near future, we will use artificial intelligence and big data technologies to automatically recognize a player's key movement, such as shooting a basket, and add special effects to the match," Wang added.
Founded in 2014, Root-Sports's Qiuji app operates across nine cities, including Beijing, Shanghai, Qingdao, Shandong province, and Foshan, Guangdong province.
Domestically, the company covers more than 30 basketball courts with special high-definition cameras.
Operators can choose a variety of supportive services, including normal video sharing for regular users, or a professional streaming system for major college teams.
While Wang declined to disclose detailed financial figures, RootSports is reported to earn millions of yuan in revenue, including the sales revenues and advertising dollars from major sportswear brands.
It is also expected to make a profit next year with a goal to expand its operation to more than 500 basketball courts.
But then, a sports and fitness report released earlier this year by information service company, The Economist Corporate Network, painted an industry on the cusp of a boom.
"The potential in China's sports industry is huge," said Rob Koepp, director of ECN in Hong Kong.
"Around one third of Chinese people will frequently exercise, which means that 434 million people are physically active," he added.
Wang is just as bullish about the future. But he stressed it will take time to develop the smart sports sector.
"To better employ the technologies like AI and big data, we need to accumulate a large amount of sports information," he said. "And we also need to nurture users and grow the market in China."