Racing toward smart, new era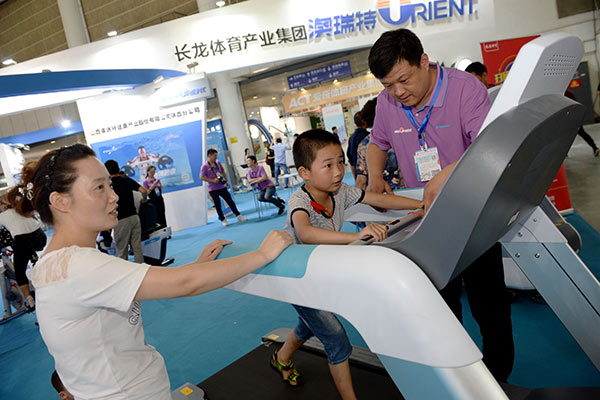 A boy tries an automated treadmill at a sports exhibition in Xi'an, capital of Northwest China's Shaanxi province.XINHUA

High-tech applications such as big data and IoT will change sports market
Every industry has had a smart makeover. Now, it is the turn of health and fitness to be fast-tracked through technology.
Smart sports are the latest buzz words echoing around this multibillion-dollar sector.
Backed by government policies, high-tech equipment and products are being rolled out to help people stay healthy.
Custom-made fitness programs are also in vogue.
"With the rapid development of new technologies, including big data and the internet of things, smart sports will enable a more personalized and smarter exercising experience," said Chen Gang, director of the Jiangsu provincial sport bureau.
Already this is starting to happen with heart-rate monitor wristbands and fitness apps flooding the sports equipment marketplace.
But Chen is convinced this is just the start of a digital transformation after mapping out his vision of the future at an intelligent sports summit during the World Internet of Things Exposition in Wuxi, Jiangsu province, last month.
"The future scenes of smart sports often take shape in my mind," Chen said. "Trackers and fitness apps will be the new personal coaches to record workout conditions and offer routines, allowing users to connect with neighborhood groups to exercise together.
"People will be able to use apps to book venues, and arrange coaches and partners. And in the event of bad weather, people will be able to use smart tools to work out at home with the help of virtual reality," he added.
During the past few years, China has witnessed stunning growth in the sports industry linked to digital and online merchandise.
A report released earlier this year by iResearch showed Chinese active users of online sports and fitness products had exceeded 350 million by November, 2016.
The market research company also predicted that monthly active users of sports and fitness apps will surpass 100 million this year.
Statistics from the China Internet Network Information Center back up this internet boom.
Figures from the CNNIC revealed that among the 751 million Chinese netizens, 96.3 percent were mobile phone users, which provides a larger base for the evolving online sports and fitness industry.
Government policy is also fueling the smart sports sector. Last year, Chinese authorities announced a national fitness plan, aimed to cope with an aging population.
The blueprint showed that spending on sports and fitness in China is expected to expand to 1.5 trillion yuan ($227 billion) in 2020.
This in turn will generate unique business opportunities for companies involved in the industry, Wang Weidong, director of the economic department of the General Administration of Sport of China, stressed.
"With an increase in average income, Chinese people are now sufficiently affluent to seek a better quality of life," he said.
"Meanwhile, the government's supportive policies and blossoming technologies, such as the IoT (internet of things), will (increase) the trend in smart sports (and fitness)," Wang added.
Chen, of Jiangsu provincial sport bureau, underlined the role that integrated high-tech will play in the transformation of the industry.
Inter-connected apps and devices will spur growth in the sector as domestic companies gear up to wheel out new sports and fitness products for consumers.
"The sports (and fitness) industry is now ready to embrace a technological revolution," Chen said.
"The emerging smart sports in China will help companies in related traditional industries, including healthcare, culture and tourism," he added.
The market has certainly attracted new investors.
Analysys consultancy in Beijing reported that funding has poured into the sprawling mobile fitness and sports app market during the past few years.
In 2016, leading Chinese online fitness startups, including workout provider Keep and mobile app Codoon, raised 935 million yuan compared to just 22 million in 2011.
These apps cover a wide range of niche programs.
Codoon, for example, tracks running times and distances, while Keep offers workout routines.
There are similar online apps for bodybuilding and weight-loss regimens.
Many of them also have social networking functions to increase the internet experience.
Naturally, sportswear is another area which has had a smart update.
A report by consultancy International Data Corp, or IDC, showed wearable device shipments surged by 57.1 percent to 38.76 million models in 2016 compared to the previous year.
This accounted for more than 40 percent of market share worldwide.
In 2017, IDC has predicted that wearable device shipment will expand to 50 million with a market value of more than 26 billion yuan.
Still, Bao Mingxiao, a researcher at the China Institute of Sport Science, insisted that companies need to "better understand" new customers flocking to sports and fitness.
"They should have a better understanding of consumers and find their real needs," Bao said.
"More value-added services and better application of smart sports should be introduced to the emerging market," he added.