Baofeng banking on home projectors, AI investment for sustainable growth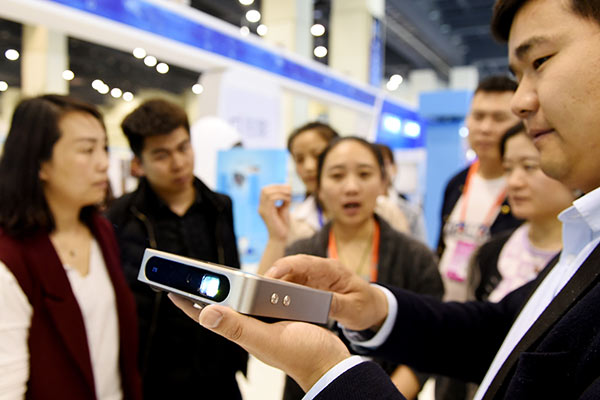 Customers check a portable micro projector at a trade fair in Zhengzhou, Henan province.LANG SHA/CHINA DAILY
Baofeng Group Co Ltd, a Beijing-based internet entertainment and technology company, is bullish on the prospects of the home projector market as it is witnessing 55 percent growth annually, and will increase its investments in artificial intelligence sector.
"We will apply cutting-edge technology into our hardware products, such as televisions and projectors," said Feng Xin, chief executive officer of Baofeng Group.
Feng said he is confident on the growth potential for home projectors.
"Although large-screen televisions are the future trend of the industry, the price for a 100-inch liquid crystal display unit is relatively high. The home projector is more price-competitive."
The company has launched its screenless AI-enabled television Max6, actually a home projector, at 3,999 yuan ($603). Max6 can comprehend the voice of human beings, memorize each user's preferences and viewing habits, and then come up with recommendations to suit the user.
Feng said the company has invited Pascale Fung, a professor at the department of electronic and computer engineering of Hong Kong University of Science and Technology, as the company's chief scientist for AI initiatives.
Feng added that the company will make great efforts in expanding online and offline sales. The company now has more than 6,000 brick-and-mortar stores across the country. Apart from the home projector, Baofeng also focuses on virtual reality equipment.
Baofeng is not the only player in the home projector industry. Intelligent projector manufacturer Xgimi Technology Co is also investing heavily in the home projector sector.
"The projectors replace the traditional LCD screen with projection imaging. The quality of graphics and sound is the same as a traditional TV, but the area of imaging is much bigger and could be measured in meters, not inches," said Zhong Bo, the founder and CEO of Xgimi Technology.
Zhong estimates the projector will replace traditional televisions within the next five years.
Moreover, Xgimi has established cooperation with search engine Baidu Inc's Baidu Music and Hunan TV's streaming site Mango TV, which offers more than 1 million songs and 300,000 hours of movie and television content.
Industry statistics showed the sales of home projectors increased 200 percent last year. The screenless TVs or intelligent home projectors have growth potential as they can satisfy consumers' demand for high-quality, immersive entertainment experience.
Dong Min, general manager at Beijing consultancy All View Cloud, or AVC, said the traditional television market is almost saturated and companies need to seek new growth points. New display technologies such as OLED TVs, curved screen TVs and screenless TVs are all good choices, he said.