Telecom firms try to gain 5G advantage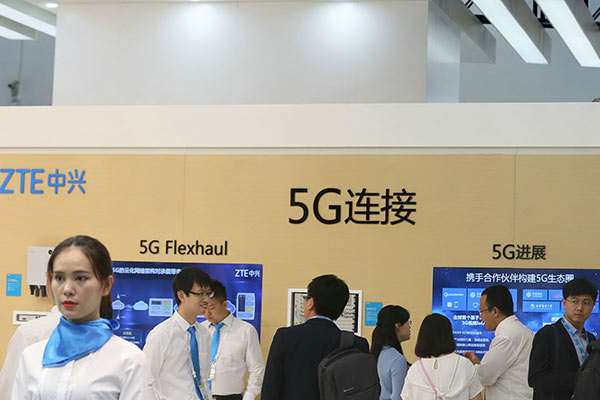 Visitors check information about 5G services at the booth of ZTE Corp at the PT/Expo China 2017 in Beijing.A QING/CHINA DAILY
Telecommunications gear makers are ramping up their efforts to garner overseas business around the planned fifth-generation network, as part of the country's broader push to gain the lead in the race for the next generation of mobile communication technologies.
The high-speed 5G technology is expected to revolutionize the tech world in the near future, as it will be able to transmit data more than 10 times faster than the current 4G system and will take on tasks that are impossible in the 4G era, such as overseeing self-driving vehicles.
ZTE Corp, a major telecom equipment maker in China, announced last month the partnership with Italy's largest operator Wind Tre and Italian wholesale fiber network operator Open Fiber, to build Europe's first 5G pre-commercial network.
Last month, the company also signed up with French telecom carrier Orange Group to work on testing and assessing several key 5G enabling technologies.
Chinese tech giant Huawei Technologies Co Ltd is also gearing up its expansion of 5G development in overseas markets. Huawei has partnered with Germany's Deutsche Telekom, announcing Europe's first 5G connection based on the latest 3rd Generation Partnership Project standard in September this year.
Buoyed by abundant resources and support from the government, Chinese vendors are now able to provide needed services for the overseas market and grab opportunities around 5G, according to Li Yi, chief researcher at the Shanghai Academy of Social Sciences' internet research center.
"The 5G cooperation with overseas partners will enable Chinese vendors to play key roles for the fast development of 5G globally. Meanwhile, the cooperation will also speed up the commercialization of 5G in related overseas countries and regions," Li said.
According to ZTE, the network trials with Wind Tre and Open Fiber are scheduled to be conducted in the Italian provinces of L'Aquila and Prato, with a 5G innovation and research center to be built in the former.
ZTE said it would work with local universities and companies to test and verify 5G technology's performance, network architecture, 4G and 5G network integration and future 5G application cases, including augmented reality, virtual reality, smart city and industry 4.0.
Bai Yanmin, the company's vice-president, said the company aims to become a global 5G pioneer.
"We believe that this cooperation will help Italy build a world-class 5G pre-commercial network, promote the commercialization of 5G in other countries and regions and accelerate the construction of a 5G industry chain."