Half of iPhones manufactured in central China's Zhengzhou city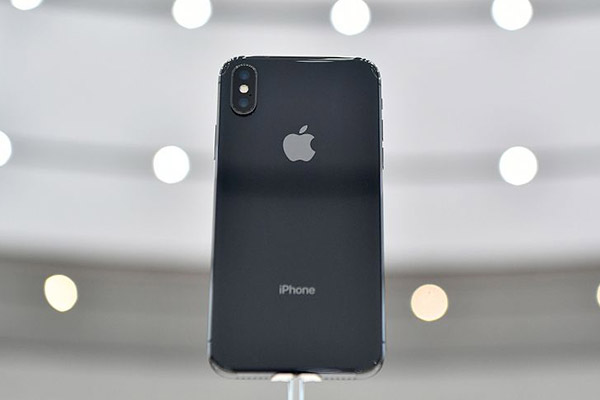 An iPhone X is seen on display during a media event at Apple's new headquarters in Cupertino, California, September 12, 2017. [Photo/VCG] 
Data indicates that nearly half of the Apple's iPhones are manufactured at Foxconn's Zhengzhou plant in central China, a place once again buzzing with activity after Apple unveiled three new products: iPhone 8, iPhone 8 Plus, and iPhone X on Sept 12.
A lack of workers is one of the weaknesses of the "Made in the US" strategy. Though US President Donald Trump has repeatedly said he will rejuvenate the country's manufacturing industry and bluntly ordered Apple to establish a manufacturing plant in the US, "Made in the US" seems more like a slogan than an attainable goal.
Foxconn has a complete industry chain in counties and towns of Zhengzhou, which include a headquarters, precision electronics companies, and other branch plants, guaranteeing high efficiency and self-sufficiency.
There are 94 iPhones production lines operated by 350,000 workers, and about 350 iPhone units are assembled per minute at the Foxconn plant in Zhengzhou. Daily production could reach as many as 500,000 units, according to a report. Besides assembling phones, the plant also produces small metal phone parts.
The plant is located inside a bonded zone, equipped with customs officials at the factory gate to facilitate iPhone exports. It is also built within a few miles of the city's airport to expedite global shipments.
The US is still reluctant to recognize the vital status of Chinese factories, though they are vital for making iPhones. Trump encouraged Apple to build a manufacturing plant in the US before and after he took office. He also reportedly made a commitment to cut taxes for the company, had it managed to transfer iPhone manufacturing operations to the US
Even if Apple opted to move its manufacturing plant to the US, the job would not be finished once and for all. In 2016, Apple had 766 global suppliers, among which 346 were on the Chinese mainland. Additionally, about 3 million Chinese workers were working for Apple that year and the number has increased in 2017.
It's difficult to achieve "Made in the US," because the US lacks industrial workers and a supporting industrial chain.
The process of building iPhones requires 8,700 mid-level engineers. In the US, there were only 7,000 such college graduates in 2014. In China, there were 240,000 skilled workers and engineers at Foxconn, Apple said in 2015.
"The US doesn't have a consumer electronics industry supply chain. The chain includes not only raw material and core parts, but also skilled and capable workers in the field," a partner of a venture capital firm had pointed out.
The US has been detached from electronic manufacturing industry for a very long time, and thus does not have a complete supporting industry chain. But in southern China's Shenzhen, at least 10 suppliers could be found in a single day, said a US professor studying supply chain management.