Apple unveils iPhone X in major product launch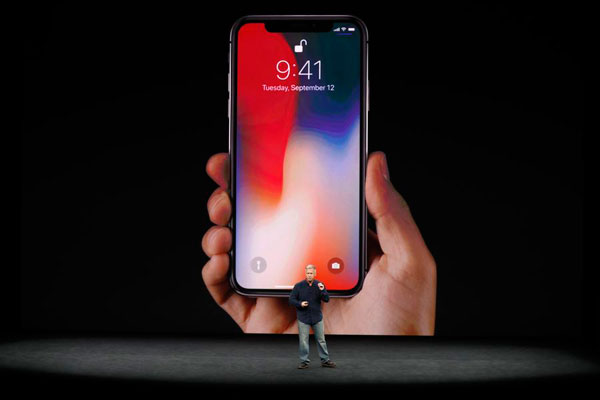 Apple Senior Vice President of Worldwide Marketing, Phil Schiller, introduces the iPhone X during a launch event in Cupertino, California, US September 12, 2017. [Photo/Agencies]
Apple Inc on Tuesday rolled out its much-anticipated iPhone X, a redesigned product of glass and stainless steel with an edge-to-edge display that Apple Chief Executive Tim Cook called "the biggest leap forward since the original iPhone."
The phone features wireless charging, an infrared camera and special hardware for facial recognition, which will replace the fingerprint sensor for unlocking the phone. The home button found on previous iPhones is also gone, and users will instead tap the device to wake it up.
But in an embarrassing moment for Apple senior vice president Craig Federighi, the face ID unlocking did not work on his first attempt during the on-stage presentation.
The phone, which is priced at $999 and ships on Nov 3, as well as the holiday shopping season that will follow are the most important for Apple in years.
Shares of Apple were last down 1.3 percent after erasing gains of up to 1 percent during the launch event.
The company has sold more than 1.2 billion iPhones over the past decade and ushered in the era of mobile computing, but last year had a substantial decline in revenue as many consumers rejected the iPhone 7 as being too similar to the iPhone 6.
The screen on the iPhone X is about the size of the current iPhone 7 plus, though the phone itself is smaller. It features richer colors thanks to a new technology called OLED that other vendors such as Samsung are also rolling out.
Apple also introduced the iPhone 8 and the iPhone 8 Plus, which resemble the iPhone 7 line but have a glass back for wireless charging.