E-commerce empowered by WeChat's Mini Program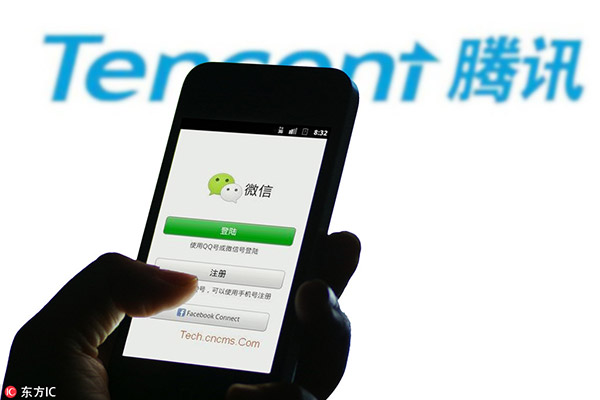 Tencent's Wechat app. [Photo/IC]
Tencent Holdings Ltd, the operator of China's largest social media network WeChat, is extending into e-commerce by empowering industry players through its 8-month-old in-app feature.
The Shenzhen-based company is opening up the functions of its Mini Program' a built-in assortment of apps, to help online shopping platforms with improved traffic, marketing might and payment capabilities built around the entire WeChat ecosystem.
By adopting the Mini Program, brands and vendors can offer cash rebates, group-buying options, virtual gift cards and livestreaming services to 962 million users on WeChat, the most popular daily point of contact by Chinese since its debut in 2011.
A host of e-commerce platforms, including JD.com Inc, the second-largest player to Tencent's rival Alibaba Group Holding Ltd's sites, have embraced their namesake "mini programs", Chen Hao, product manager of Mini Program, told a WeChat-themed open class in Shanghai.
The key to increased traffic is sharing product information among WeChat contacts. For example, a buyer can only receive cash incentives when forwarding their recent purchase record to a number of group chats, Chen said.
Users can access such "mini programs" via WeChat's other functionalities, including Public Accounts, a publishing portal widely adopted by brands for digital marketing and customer relations management, and WeChat Moment, which allows for ad placement to be inserted in friends' updates.
Introduced in January, Mini Program was designed to change the traditional app store model by allowing users to instantly find and use an application through WeChat without downloading and later scrapping unused apps.
Mogujie, an online shop-ping community for young women, saw the addition of 3 million new users after launching its "mini program" in late June. Compared with its indigenous app, the site's conversion rate-the percentage of people placing orders among all browsers-more than doubled in the past two months.
"About 70 percent of our new customers come from group-buying business, which is heavily reliant on the sharing feature backed by the vast WeChat network," said Wang Fei, Mogujie's marketing head overseeing Mini Program development.
In addition, young buyers are increasingly turning livestreaming platforms into avenues for treasure hunting. Wang said the "mini program" helped double the average viewership duration of live shows on skincare tips and significantly drive sales, without disclosing numbers.
UK's luxury brand Stella McCartney used the "mini program" to get a clear picture of customer profiles based on data provided by Tencent. It can also decide which big-ticket categories are suitable for online channel sales, said Yuan Zheng, Stella McCartney's senior communications manager in China.
The Mini Program would effectively reduce the number of apps people already store on devices as they deal with an overload of information, said Zhou Jiajun, investment director at Sinovation Ventures.
This is also another step forward to monetize the all-in-one app. According to Tencent, WeChat-fueled social advertisements revenue jumped 61 percent in the quarter ended June 30.