China's Tencent buys European soccer rights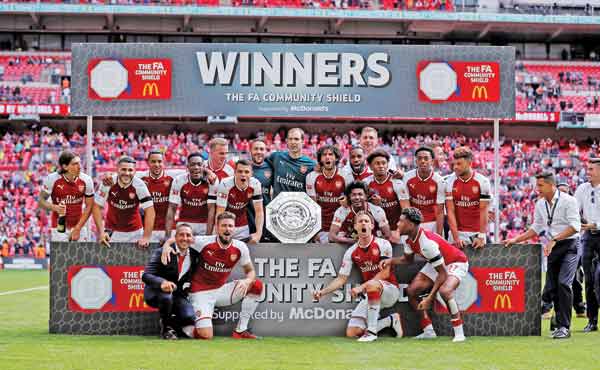 Arsenal beat Chelsea on Sunday in the first match to be live streamed by Tencent in China. [Photo/Agencies]
A new broadcast rights deal secured by China's Tencent Sports means Chinese fans can watch the UK's FA Cup and top division soccer from Scotland, Italy and France on their phones and laptops over the 2017-18 season.
Tencent Sports paid an undisclosed amount to London-based media rights agency MP & Silva for the online streaming rights to hundreds of matches in the Scottish Premiership, Serie A, Ligue 1 and FA Cup.
Tencent Sports is the sports entertainment branch of China's tech giant Tencent, the firm behind social media app WeChat which has 938 million monthly active users in China and abroad. MP& Silva is a company with a majority stake owned by Beijing Baofeng Technology and Chinese financial services company Everbright Securities.
The one-year deal sees the leagues join Tencent's growing online sports streaming empire, which includes Germany's Bundesliga and the UEFA Champions League.
MP & Silva said: "Their eventual goal is to serve all football fans comprehensively, and bring Europe's top football matches closer to the fans."
Tencent also has rights to broadcast matches from the United States' National Hockey League and last year the firm signed a five-year extension to its streaming deal with the National Basketball Association, worth a reported $700 million dollars.
Andrew Collins, CEO of Shanghai-based digital marketing agency Mailman, said: "Tencent is earmarked to be one of the most influential media platforms in the world over the next ten years if they continue to consolidate social, peer to peer, chat and sports content."
Streaming sports on portable devices is widespread in China where Tencent competitors PPTV and LeSport operate online portals. In June, 175 million users streamed the last game of the NBA Finals on Tencent's platform.
Consumers are attracted to interactive elements of the broadcast not found on conventional platforms such as TV. Users can, for example, watch NBA games live while chatting with a host live streaming among fans in the arena. The company plans to adopt augmented reality and 3D technologies for live streaming matches.
Collins said: "Compared to the global networks, the more traditional broadcast networks in the US for example, Tencent is miles ahead. Trends that are happening online, with the power that these online streaming portals have, are way more advanced than other vehicles."
The FA Cup is Britain's most important tournament. Tencent Sports users were able to stream Sunday's Community Shield clash between London rivals Arsenal and Chelsea.
A further 40 matches from the first to the fifth round of the competition will be available under the deal, as well as all seven matches from the quarter finals onwards.