China's 'four great new inventions' in modern times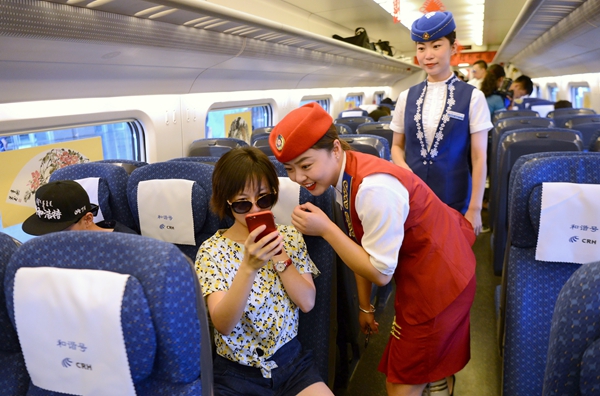 An attendant serves a passenger on a high-speed train at Hohhot East Train Station in the Inner Mongolia autonomous region on Thursday morning. WU YUNSHENG/CHINA DAILY
High-speed rail 
Boasting low cost and quick delivery, China has built the world's longest high-speed rail (HSR) network. Branded as a "name card" for China, HSR runs at speeds of 250-350 kilometers per hour (km/h).
By the end of 2016, China had a 124,000-km railway network, which had the world's largest HSR network of more than 22,000 km. It had operated 2,595 high-speed trains by 2016, which took up 60 percent of the world's total high-speed trains.
HSR service debuted in China in 2008. Since then, the country has witnessed an average annual growth of over 30 percent in passenger trips, according to statistics from the China Railway Corporation. By 2016, there had been more than 5 billion passenger trips on China's bullet trains in eight years.
Currently, China is working on next-generation bullet trains with a maximum speed of 400 km/h. By 2020, one fifth of the country's 150,000-km railway network will have been HSR, linking more than 80 percent of major cites across the country, according to data from the National Development and Reform Commission.
China's HSR has also gone global. In 2014, China completed the construction of its first overseas high-speed rail in Turkey. In June 2015, China and Russia inked deals for 770 km of track connecting Moscow and Kazan.
In October 2015, China and Indonesia signed a joint-venture agreement on the construction of a high-speed rail between Jakarta and Bandung. Besides, the China-Thailand railway is currently under construction.