Fresh moves transform hybrid shopping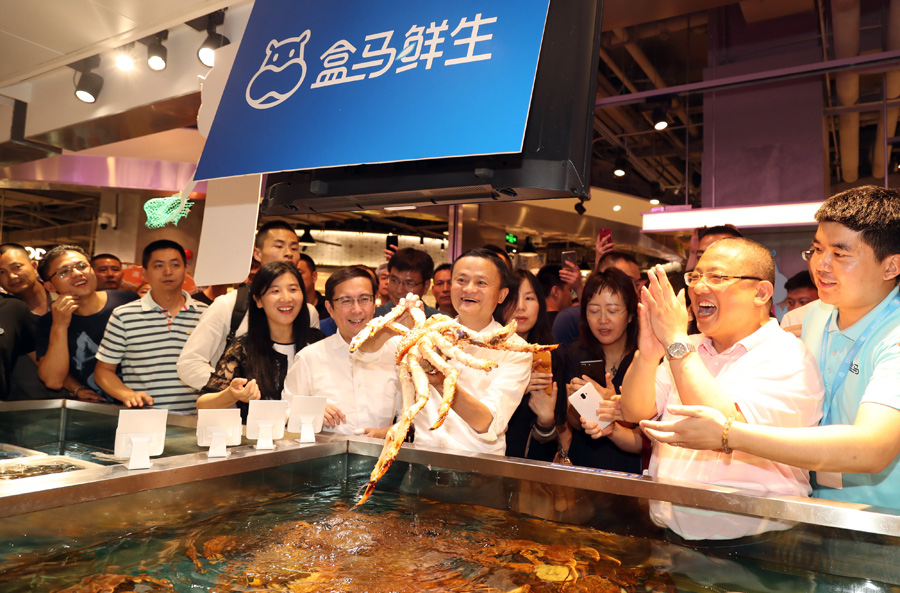 Jack Ma, founder and chairman of Alibaba Group Holding Ltd, picks up an imported crab in the newly opened Hema Xiansheng outlet in the Jinqiao area of Shanghai on July 14. Hema Xiansheng, financed by Alibaba, is a new form of online-to-offline retailer, committed to fresh food, and ready-to-cook meals delivered to customers in 30 minutes. PROVIDED TO CHINA DAILY
Hema Xiansheng has made its bricks-and-mortar stores feel like giant online supermarkets
Hema Xiansheng's fresh approach appears to be paying off in the cutthroat world of hybrid shopping.
Rolled out by Alibaba Group Holding Ltd in 2015, the online-to-offline or O2O retailer has successfully combined bricks-and-mortar stores with online services.
Known for its fresh food, this O2O startup has steadily expanded its network of supermarkets since it opened its first outlet two years ago.
Now, it has 10 stores in Shanghai, two in Beijing and one in Ningbo, Zhejiang province.
"Having both an online and offline outlet should create synergies by aligning two sets of customers under one grocery brand," said Matthew Crabbe, Asia Pacific research director for consultancy Mintel.
"That is important for Alibaba, as the company gets a better understanding of online and offline customers, and the data about their spending habits," he added.
Hema is a prototype of "New Retail" for the e-commerce behemoth as it cements its position in the online marketplace, despite fierce competition from domestic and overseas rivals.
During a visit to the flagship supermarket in Shanghai's Jinqiao area in July, Alibaba Chairman Jack Ma and CEO Daniel Zhang were delighted at what they saw.
"The store leverages data and smart logistics technology to seamlessly integrate online-to-offline systems," said Zhang. "This means we can deliver fresh food to customers in just 30 minutes."
The online grocery market is expected to reach 678 billion yuan ($100.8 billion) this year, nearly 10 times the value of the sector back in 2013, consultancy Mintel pointed out in a report.
Indeed, the shift to O2O has been pioneered by major internet players such as Alibaba, Tencent Holdings Ltd, Baidu Inc and JD.com Inc.
"The real spurt in growth came from 2015 onwards, which followed Alibaba setting up Hema and JD.com collaborating with convenience stores," Crabbe, of Mintel, said.
Since then, the sector has grown rapidly.
At hyper-local Hema, customers can either shop from the comfort of their own homes by using the supermarket's app or pop into the store.
Once there, they can handpick their food, have it delivered or eat it on the spot.
A shopper visits a newly opened Hema Xiansheng store in Shanghai. PROVIDED TO CHINA DAILY
In one 10,000 square-meter outlet located in a shopping mall in Shanghai's downtown Changning district, every item had a bar code.
When scanned, this showed the price, product information and origin of purchase.
Before leaving the store, customers scan the code and complete their electronic purchase through Alipay, Alibaba's homegrown payment system, at a checkout register.
Nearly all of Hema's products come in single-meal portions. This is to address the demand for high-quality food with unnecessary waste.
"Unlike in the past, city dwellers seldom cook for at least half of the week," said Zhang Guohong, general manager at Hema. "They tend to dine out or order food in."
The O2O supermarket's fresh seafood section, such as king crabs and lobsters, has proved to be extremely popular.
Shoppers can purchase what they want to eat from large tanks, have it cooked and then tuck into their food in the dining area.
Alternatively, they can have it delivered to a location within a radius of three kilometers from the store.
Fuelled by the voracious appetite for fresh food in China, Alibaba has expanded its seafood and fruit sectors.
Fresh produce, in fact, now accounts for more than half of all Hema's stocks. In some stores, it is as high as 70 percent.
"If we can handle fresh fruit and seafood, then learning to handle all the other kinds of imports becomes relatively easy," said Ma when Alibaba's business-to-customer site Tmall first introduced Canadian lobsters.
Naturally, online retail is expected to grow from 15 percent of overall sales in 2015 to 47 percent through to 2022, according to KPMG, the professional service company and one of the big four auditors.
"That is evident from the rise of the likes of Hema," said Jessie Qian, head of Consumer Markets for KPMG in China.
"Hema achieves a 50 percent split between offline and online sales through a business model integrating showrooms and online delivery of fresh products," she added.
Statistics suggest that Alibaba's early venture into O2O retail is paying off, although financial figures are sketchy.
The online giant reported that Hema's Jinqiao store in Shanghai, the first to open in the country, is now profitable.
Shoppers on average make 4.5 purchases a month and visit the supermarket 50 times a year, the group revealed.
Among Hema app users, the conversion rate for making a purchase was as high as 35 percent, although again detailed figures were not disclosed.
Finally, stores' sales per unit area are three-to-five times those of other supermarkets, Alibaba stressed.
Since the shops are also giant warehouses, Hema has cracked the problem of how to deal with 1,000 deliveries per outlet a day.
Big data and cloud computing, as well as an innovative distribution system, have been crucial to making that work.
In particular, big data has become a vital pillar of the information industry, and is used to crunch vast amounts of complex statistics to show patterns and trends in business and consumer habits.
In store, "order-fulfillment" specialists move up and down the aisles with scanners, reusable shopping bags and special bar codes for each order.
The bar codes not only help customers trace the origin of their goods but they also track deliveries.
Once an order has been put together in shopping bags, they are placed on hangers and swept off on overhead conveyor belts.
Normally, it takes about three minutes to put a small order together after receiving it online.
Again, big data is key to this operation as the process goes through an app.
Hema is able to collect reams of statistics for physical and virtual stores, which allows it to track and analyze the shopping patterns of customers.
Every purchase is logged and preferences noted, with items promoted that appeal to the tastes of individual shoppers.
But the supermarket chain faces challenges as it expands, such as delivery delays and logistical problems.
"If the Hema group is to continue to expand, it will have to take this into account," Crabbe, of Mintel, said. "It must learn how to avoid such problems in new cities and districts they open stores in."