Major players move into internet of things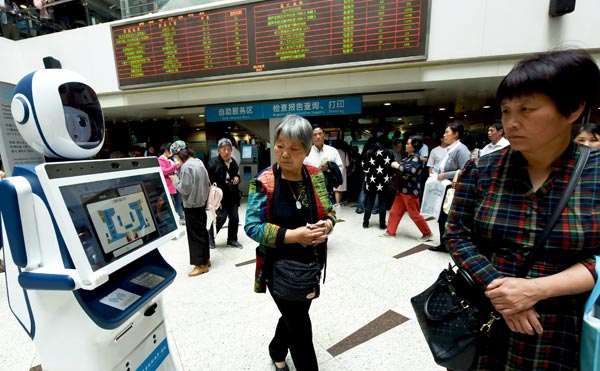 People at a clinic interact with a 4G network-connected intelligent medical service robot in the outpatient lobby of a hospital in Hangzhou, Zhejiang province. [Photo by Long Wei/For China Daily]
Chinese telecom carriers are rushing to roll out "internet of things" technology for consumers in a wide range of areas from smart homes to smart parking.
High-tech solutions run by NB-IoT chips can connect smartphones and mobile devices to an array of household products, as well as other key day-to-day items.
The leading three telecom companies have pioneered this technology with manufacturing companies as the internet of things starts to take shape. "The appearance of NB-IoT has opened up a new era," said Zhang Shunmao, president of the Marketing & Solution Department for Products and Solutions at Huawei Technologies Co Ltd, a leading smartphone manufacturer.
Indeed, NB-IoT's narrow band radio technology was developed to enable a wide range of low-power devices and products to be connected to the internet.
Simply put, this means you can read how much electricity or gas you have used at home on your smartphones or PCs from your offices, or even turn off your cookers.
During the past three years, telecom companies have raced to wheel out the service.
China Telecommunications Corp started the ball rolling when it became the first carrier to map out NB-IoT technology.
Earlier this year, it established its internet of things network in cooperation with companies such as Hisense Co Ltd and Haier Group Corp, two of China's largest home appliance companies. Competition in this new "home sector" is highly competitive.
China United Network Communications Group Co Ltd set up more than 50 million NB-IoT connections in more than 10 major cities, including Shanghai, Beijing, Guangzhou and Shenzhen.
Rival China Mobile Communications Corp and NTT DOCOMO, a Japanese telecom company, then announced they would jointly develop the world's first multi-vendor embedded subscriber identity module (eSIM) system.
This will mean that certain products manufacturered in Japan will connect up to China Mobile's internet of things network once they are exported here. Closer to home, China Telecom linked up with bike-sharing startup Ofo Inc and Huawei Technologies Co to produce smart locks based on NB-IoT technology.
But then, the potential for the internet of things is huge worldwide.
"The number of internet of things devices will reach 26 billion globally by 2020, which will bring sales revenue of $300 billion," stated Gartner Inc, the global research and advisory company based in the United States.
As for China, the overall market is now worth 750 billion yuan ($110.6 billion) and is expected to exceed 1.5 trillion yuan by 2018.
"The internet of everything will promote the transformation of lighting, water services and manufacturing," Zhang at Huawei said.