PC, mobile woes take toll on Lenovo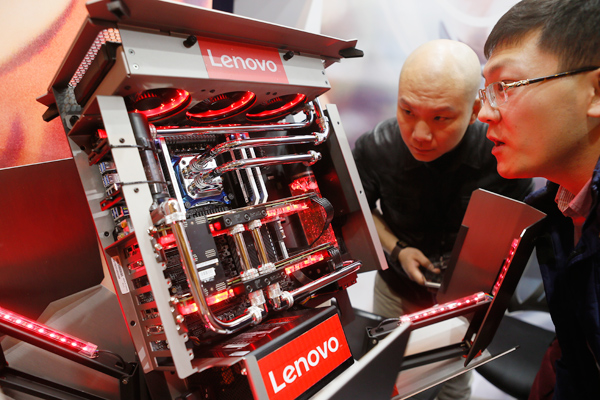 A new Lenovo computer is on show at an innovation summit held in Xi'an, capital of Shaanxi province. ZHANG JIE / FOR CHINA DAILY
Contracting annual PC shipments and declining mobile phone sales cast a shadow over the outlook for Lenovo Group Ltd on Thursday, despite the technology giant reporting a profit turnaround in the 2016 fiscal year.
The Hong Kong-listed company reported a $535 million profit in the fiscal year ended Mar 31, recovering from its $128 million loss a year earlier. However, Lenovo's annual revenue fell 4 percent from the previous fiscal year to $43 billion.
The revenue of its personal computer and smart device business group, which accounts for around 70 percent of Lenovo's total income, decreased 2 percent year-on-year to $30.10 billion. Its global PC unit shipments decreased by 1 percent from a year earlier to 55.7 million units. Consumer PC unit shipments declined 6 percent year-on-year.
Although Lenovo still had the top spot in terms of PC shipments in 2016, competitors such as HP Inc and Dell Technologies are catching up rapidly, registering annual growth of 1.3 percent and 4.3 percent respectively, according to technology market research firm International Data Corp.
While Lenovo retained the largest slice of the global PC market-21.3 percent-in 2016, HP narrowed the gap by taking 20.9 percent, according to IDC. A year earlier, Lenovo took 20.8 percent, while HP had 19.4 percent.
Facing difficulties in its PC business, the 33-year-old PC firm has invited Liu Jun, its former executive vice president, to re-join Lenovo on May 16 to take charge of its biggest business sector.
Before he left the company in June 2015, Liu had worked with Lenovo for 22 years, and was responsible for its PC business. He introduced the business model of combining commercial and consumer PC sectors to Lenovo, helping it consolidate its leading position in the industry.
Upon Liu's return, Lenovo has also announced that it will reorganize its business in China. It will set up two independent groups-a personal computer and smart devices group and a digital center group.
While its PC business is confronted with growing competition, Lenovo's mobile sector, which accounts for around 18 percent of the company's revenue, is deteriorating. The unit's losses widened to $566 million from $469 million a year earlier.
Lenovo shipped only 15 million mobile phones in 2015, plummeting from 47.3 million in 2014. And this further contracted to 5 million in 2016, leaving Lenovo nowhere to be found among the top five mobile phone makers list in China. It also announced last month it would scrap the ZUK mobile phone brand.
However, Yang Yuanqing, Lenovo's chief executive officer, said the company was not prepared to give up on the mobile phone sector. He said earlier this year it would try to "reset" the situation.
Lenovo rose 3.7 percent to close at HK$5.05 (65 cents) on Thursday.