Microsoft champions latest Surface Pro laptop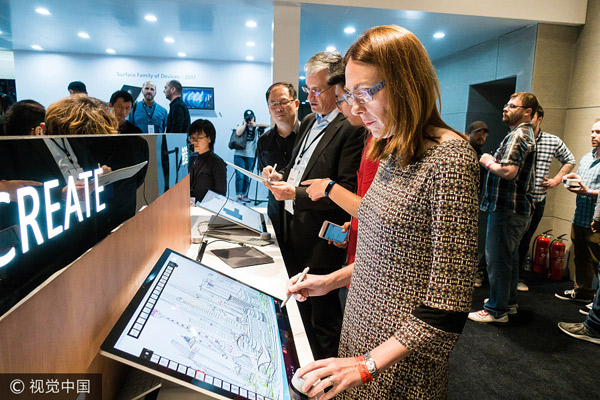 Microsoft launches the latest Surface Pro laptop in Shanghai, May 23, 2017. [Photo/VCG]
Microsoft Corp is betting that China will lead the way for its hardware sales revival with the tech giant launching the latest Surface Pro - the lightweight laptop that also works as a tablet-among other product lineups in the country that has experienced the category's fastest growth internationally in recent years.
From updated tablet-laptop hybrids to its latest games console, the US group hosted its first-ever global product launch fair on Tuesday in Shanghai, underscoring China's huge market potential to drive much bigger sales numbers, according to Panos Panay, corporate vice-president for Surface at Microsoft.
"China is our fastest-growing market. That's why we decided to share the new Surface Pro with the whole world from Shanghai," Panay told a packed audience near the Bund, an iconic waterfront area in central Shanghai.
Dubbed the New Surface Pro, the tablet, with a removable keyboard powered by a faster Intel 7th generation chip and an improved battery life of 13.5 hours, has Microsoft claiming it outperforms its main rival-Apple Inc's iPad Pro.
Microsoft said it was also updated with a brighter screen, a new silent fanless option, and a stylus pen with improved latency and tilt functionality, giving users from artists to mobile professionals a more fluid experience.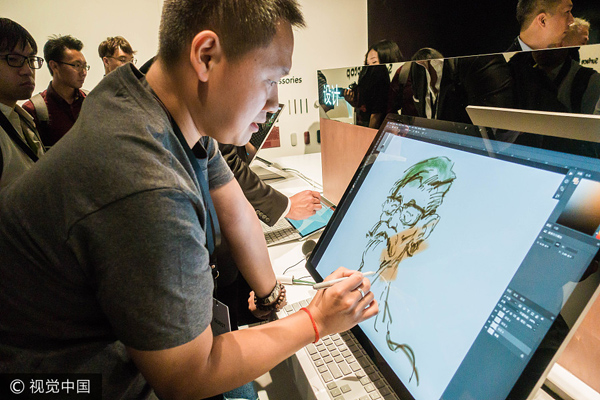 Microsoft launches the latest Surface Pro laptop in Shanghai, May 23, 2017. [Photo/VCG]
The new device is available from June 15 in 26 markets including China, and is priced at 5,888 yuan ($799). On Wednesday, Microsoft also kicked off a two-week exclusive presale in China on the platform of JD.com Inc, the nation's second-biggest e-commerce platform.
China is the biggest market for Surface outside Microsoft's home turf, with sales growing at a compound annual rate of 50 percent, Panay said.
Also brought to China later this year are the new Surface Laptop, the HoloLens, Microsoft's augmented reality headset and the Project Scorpio games console. The Surface Studio, a device dedicated to creative processes, is also confirmed to be making its way to the country.
Surface has hit a bumpy road lately, with sales sliding 26 percent to $831 million in the last quarter, according to Microsoft's latest earnings report in April.
But it's not only Microsoft that is hurting. The tablet market experienced a 8.5 percent year-over-year decline in the first quarter of 2017, according to consultancy International Data Corp, marking the 10th quarter in a row that sales in this segment have dipped.