B&R initiative an impetus for Chinese companies' overseas expansion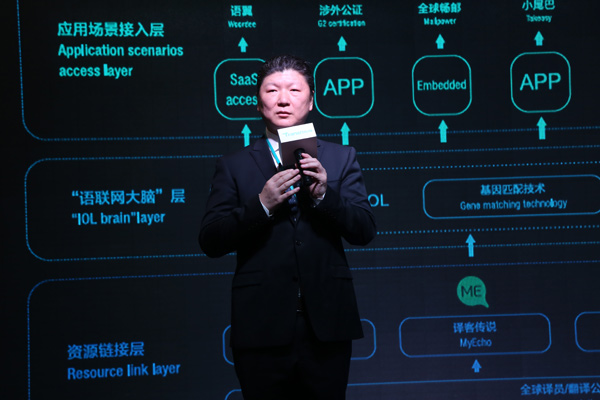 Shi Xin, vice president of Transn IOL Technology Co Ltd speaks in Beijing on April 26, 2017. [Photo/provided to chinadaily.com.cn]
Companies have increasingly been encouraged by the Belt and Road Initiative for going global, said a senior executive of a leading information processing and service provider in China.
"Driven by the initiative, many more Chinese companies have participated in more projects in economies along the Belt and Road Initiative with more investment," said Shi Xin, vice president of Transn IOL Technology Co Ltd, a language service platform based on big data and mobile internet technologies.
"Their businesses expanded from the traditional international engineering sector to equipment manufacturing and cultural and media sectors," Shi added.
The Belt and Road Initiative was proposed by President Xi Jinping in 2013, consisting of the Silk Road Economic Belt and the 21st Century Maritime Silk Road. It aims to promote the interconnectivity between Asia and the rest of the world through two ancient trade routes.
According to the Ministry of Commerce's latest data, China's trade with economies along the Belt and Road Initiative saw 26.2 percent growth year-on-year in the first quarter of 2017.
During the same period, China's non-financial outbound direct investment in 43 economies along the Belt and Road reached $2.95 billion, accounting for 14.4 percent of the country's total.
The Belt and Road Forum for International Cooperation, which will be held from May 14 to 15 in Beijing, will mean an increase in this trend, Shi added.
"Actually, the forum itself has brought an outburst of our language service business since last year. The forum has great impact and a lot of companies and institutions are getting prepared for it, involving lots of translation and investigative work," Shi said.
Another new trend on Chinese companies' road towards going global is that more small and medium enterprises (SMEs) have been attracted to the overseas market, Shi added. "Although our service to SMEs accounts for only about 30 percent in our whole business, it grows 40 to 50 percent annually."
Compared with large enterprises, SMEs are more cost sensitive and care more about short-term returns. In order to facilitate their overseas operations and solve their concerns, Transn offers tailored products for SMEs, such as TransnBox, an interpreting device with 12 languages.
Packaged solutions are also available for SMEs, including market research, bidding, design, construction and acceptance services.
"The initiative is expected to involve more and more countries, which will be a great challenge for us to offer language services, especially for some unpopular languages. We will strengthen our cooperation with universities and institutions for more talents," Shi said.