Canon plans expansion in China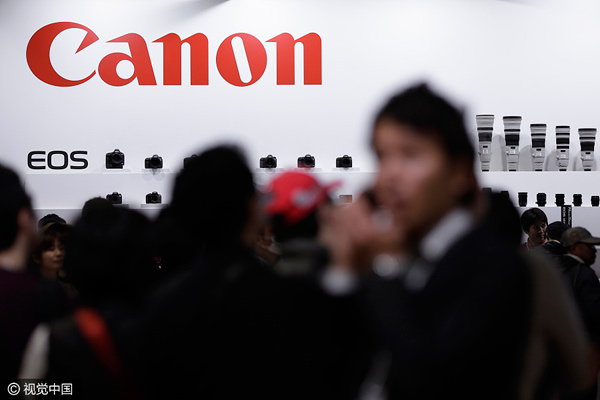 The logo of Canon Inc is seen at a photographic equipment expo in Japan, Feb 23, 2017. [Photo/VCG]
Japanese manufacturer Canon is stepping up its efforts to expand into digital printing, video surveillance and medical equipment sector.
Canon China chief executive officer Hideki Ozawa said its B2B business is expected to account for 50 percent of its revenue by 2020.
"Enlarging our market share of business inkjet printers and laser printers is one of our priorities." he said.
It is the 20th year since Canon entered the Chinese market.
"The revenue from the Asian market increased most rapidly, accounting for nearly 20 percent of Canon's global revenue. The Chinese market made the most contribution and the growth in the photocopier is also very obvious," Hideki said.
Canon will start utilizing more big data, cloud computing and other technologies to promote the digital and intelligent transformation of the office industry, Hideki said.
Canon China and China CITIC Bank have signed a strategic cooperation agreement in the field of finance.
The Japanese tech giant also plans to capitalize on the potential of China's "Healthy China" and "Safe City" programs by expanding its range of security monitoring and medical equipment products.